Phillies on the verge of acquiring Cliff Lee?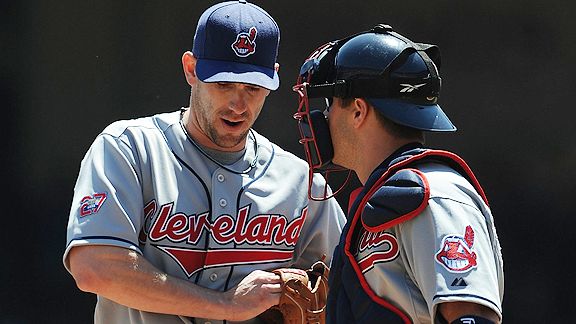 According to a report by ESPN.com, a deal between the Phillies and Indians involving ace Cliff Lee is "heating up."
According to sources who have spoken with officials of both clubs, they've discussed a variety of packages for Lee. One potential package is believed to include Carrasco, a top position-player prospect yet to be determined and two hard-throwing Class A pitchers, Jason Knapp and Trevor May.

Asked if he believed the Phillies could make a trade for Lee without including Kyle Drabek, whom Toronto has insisted upon in any deal for Halladay, one source replied: "If they were going to [trade] Drabek, they might as well do the deal for Halladay."

Phillies officials have continued to tell other clubs they believe they can make a deal for Lee without giving up either their top pitching prospect, Drabek, or their top position-player prospect, outfielder Dominic Brown.
I couldn't see the Tribe giving up Lee (whose contract is manageable through 2010) without getting back Drabek in return. But if Philadelphia could swing a deal for Lee that didn't include Drabek (or Brown for that matter), that would be an impressive feat.
Lee isn't Halladay, but there's no doubt that he would dramatically improve the Phillies' starting rotation and give them the arms needed to make another run at a World Series. A rotation of Lee, Cole Hamels, J.A. Happ and either Joe Blanton or Jamie Moyer would be tough to contend with in the NL come playoff time.
What's interesting to me is that Cleveland GM Mark Shapiro seemed dead set against trading Lee only a couple weeks ago and now it almost seems certain that the ace will be dealt by Friday. Granted, Shapiro (along with every other MLB GM) was probably just throwing out smokescreens, but the reports seemed genuine that Lee wasn't going to be moved this year.
Update: The Phillies have made an official offer for Lee according to FOXSports.com. Apparently the deal on the table is for single-A right-hander Jason Knapp, Triple-A right-hander Carlos Carrasco, shortstop Jason Donald and catcher Lou Marson. Your move, Tribe…