Edwards reports to camp late, fails physical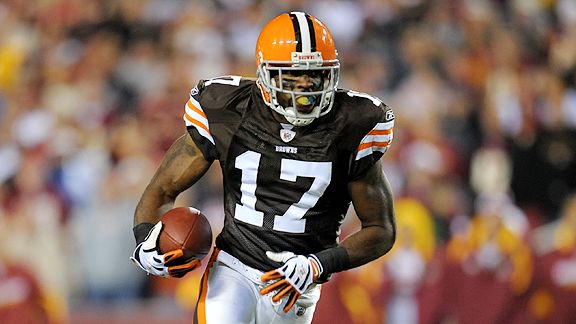 The Cleveland Plain Dealer is reporting that Browns' receiver Braylon Edwards reported to training camp a day late and when he did arrive, failed a team physical.
Because Edwards missed practice time at the team's mandatory minicamp in June with an undisclosed injury, he was notified by coach Eric Mangini to report to training camp on Monday — four days earlier than non-injured veterans.

When Edwards did not show up, the Browns placed him on the "reserve/did not report" list. Edwards could be fined as much as $17,000 for reporting one day late. Edwards arrived on Tuesday and after failing his physical was transferred to the "active/non-football injury" list.
A couple of months ago when Edwards showed up for OTAs it appeared that he and the Browns were moving in the right direction, at least in terms of him playing out the final year of his contract in Cleveland. Not that this news means that he'll get traded now, but this certainly isn't something that the Browns want to deal with a couple days before training camp opens.
I don't understand why Edwards would report to camp on Tuesday knowing that his coach wanted him there on Monday. One could suggest that he's rebelling after the Browns tried to trade him this past offseason but again, he showed up to OTAs and was a professional about the situation. So I wonder why he showed up late and thus, risked receiving a fine.