2009 NBA Free Agency: Who's left?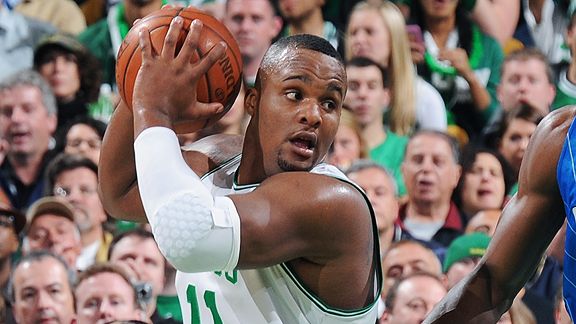 Aside from Lamar Odom and his ongoing saga with the Lakers and Heat, all of the big-name unrestricted free agents are off the market.
Restricted free agency is a completely different animal. Since a team still holds a player's rights for another season, there is no huge rush to get a deal done, especially if the team and the player's camp are far apart in terms of the player's value. The deeper into the summer negotiations go, the more likely it is that the player will play out the final year of his rookie deal for the qualifying offer and enter unrestricted free agency in 2010. Here's an update on the top remaining names on the restricted free agency market.
David Lee
Lee and the Knicks are still at an impasse. The Knicks look to be willing to match any offer up to about $8 million per season, while Lee's camp is looking for a deal averaging in the $10-$12 million range. There was some talk that the potential one-year deal for Nate Robinson might prompt the Knicks to get moving on a long-term contract for Lee, but even that Robinson deal is just a rumor. Like many restricted free agent negotiations, this looks like a case of the two sides being far apart on the player's value and given the Knicks' apparent unwillingness to work out a sign-and-trade, all signs point to Lee playing out the final year of his deal and entering unrestricted free agency next year. Lee is frustrated in no small part because his qualifying offer ($2.3 million) is well below his market value.

Ramon Sessions
The Knicks, Clippers and even the Sixers may be interested, but no one has signed Sessions to an offer sheet yet. The Bucks are likely to match most offers up to the mid-level, but there is still enough uncertainty about Sessions that teams seem unwilling to sign him to a full mid-level deal (five years, $34 million). Based on what I've read from Sessions' agent, Jimmy "Chubby" Wells, he's not sure what the Bucks are doing. It seems like a four-year deal in the $12-$15 million range would do the trick. That way, Sessions would get some long-term security and would be able to negotiate another contract when he's 27. On the flip side, the Bucks would get a backup plan if Brandon Jennings doesn't pan out. But what do I know? I'm just a blogger.
Marvin Williams
Some reports have the Hawks and Williams close to a deal, while others say that they are still a ways apart. It has been suggested that the Hawks are using Charlie Villanueva's deal (5 years, $35-$40 million) as a guide. Villanueva is better offensively, but not as good on the defensive end. Williams would obviously like to sign a long-term deal, but as a former #2 pick, he stands to make $7.3 million this season and become an unrestricted free agent next season, so unlike Lee or Sessions, it's not like he'd have to play another year for a salary that is well below his market value.
Nate Robinson
The NY Times reported that the Knicks were close to closing on a one-year deal for Robinson worth $4-$5 million, but the NY Post says that the deal isn't imminent. I don't think that Robinson is in the Knicks' long-term plans, which is why they are very hesitant to sign him to any deal that would cut into their cap space next summer. He can play another year for $2.9 million (which is probably slightly below his market value), and enter unrestricted free agency next summer. So if the Knicks were to give him a one-year deal for $4-$5 million, they'd be doing him a favor.
Ray Felton
Like Williams and Robinson, Felton's qualifying offer ($5.5 million) is quite close to his market value, so if he and the Bobcats can't agree on a deal, it's quite likely that he'll be content to play another year in Charlotte and become an unrestricted free agent next summer. It seems unlikely that another team is going to swoop in with a deal for more than the mid-level, so right now it's looking like Felton will play out the final year of his rookie contract.
Glen Davis
Davis had a great playoffs, but has thus far been unable to parlay it into a long-term deal. He wasn't all that productive during the regular season (PER: 10.77), so teams may still be leery. The Nets and Pistons are reportedly interested, but the Celtics want to retain him. His qualifying offer is only $1 million and his market value is probably three or four times that amount. Since that's below the mid-level, and any team that still has their MLE can make him an offer, it's a little surprising that Davis hasn't yet signed an offer sheet.