Detailing the Mark Cuban/Don Nelson split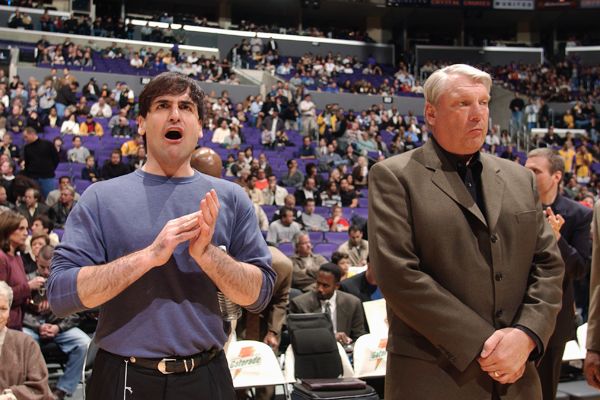 This is probably only interesting to NBA nuts and Mavs fans, but the transcript from the Cuban/Nelson arbitration hearing has been released, and there are some interesting tidbits of information. Like the story of how the Mavs almost drafted Pavel Podkolzin at #5 (instead of Devin Harris) in 2004.
But as June's draft loomed, Nelson testified that he had no reason to believe he wouldn't continue to lead that process, noting that he had selected standout Josh Howard with the 29th pick of the previous year's draft.

On draft day, the Mavericks acquired the No. 5 pick from Washington. Nelson testified that as he settled into the draft room to talk to team scouts, he was surprised to hear son Donnie, the team's vice president of operations, discuss taking "this big Russian" with the No. 5 pick.

The player's name is redacted from the arbitration transcript, but it is clear that Nelson was referring to 7-foot-5 Pavel Podkolzin.

"I said, 'Donnie, I cannot take that Russian five,' " Don Nelson testified. "And he asked me if I would go in the men's room. I went in the men's room with him, and he informed me that I wasn't in charge of the draft.

"And I said, 'Oh, really? Well, who is?' He said, 'I am.' And I said, 'Well, it's nice of somebody to tell me.'

"And I said, 'Well, if that's the case, then as your father I'm asking you don't draft [redacted].' … And Donnie didn't. He took Devin Harris."

Later in that draft, the Mavericks sent a future first-round pick to Utah for the rights to No. 21 pick Podkolzin – who never played a regular-season game for Dallas.
The article also discusses how the Mavs failed to match Phoenix's offer to Steve Nash, and how that affected the franchise.
A week after that draft, point guard Steve Nash stunned the Mavericks by signing with Phoenix as a free agent.

Nelson testified that he spent much of the 2004-05 season lamenting Cuban's decision not to match Phoenix's offer and keep Nash. Nelson said he wasn't involved in the decision because, by then, he and Cuban weren't talking.

Nelson also said the signing of free-agent center Erick Dampier that off-season made matters worse. He said Cuban circumvented him on that decision by consulting with Nelson's future replacement, Avery Johnson – even though Johnson was a free-agent player at the time.

"I think Dampier signed for more than we were even talking about [for] Steve Nash," Nelson testified. "And I considered him to be a very doggy player that they totally overpaid."
It's always interesting to hear about the inside workings of a sports franchise, especially when two of the key decision makers are personalities like Mark Cuban and Don Nelson. I don't know if Nelson is playing a little 20/20 hindsight here, but it sounds like he helped the franchise avoid disaster with the Podkolzin pick and would have done more to keep Nash in Dallas.
Still, you have to hand it to Cuban, who has always been willing to spend if he thought it would make his team better. The Mavs' appearance in the 2006 Finals is a testament to Cuban's skills as an owner.