Childress: Favre staying retired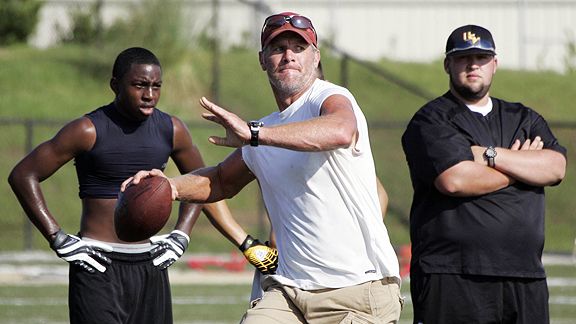 According to Vikings head coach Brad Childress, Brett Favre has decided to stay retired and will not play this season.
Judd just received a phone call from Brad Childress who said he talked to Brett Favre and that he was informed that Favre is staying retired. Childress cited the daily grind both mentally and physically as part of the reason why Favre remained retired.

"I just think it was a rare opportunity to explore a Hall of Fame quarterback who had background in the NFC and in this division," Childress said. "He knows our system inside out … This doesn't change anything about how I feel about our football team."
I'll be the first to admit that I'm shocked. I thought for sure that Brett was coming back, but ultimately I think this was the right decision. I don't think his body would have made it through a full 16-game season and I know just the thought of him being in white and purple was enough to make most Packer fans throw up their lunch.
My first thought was to write about how Brett screwed the Vikings by putting them and their players through the ringer for the past two months. But really, what has changed? They planned on going with either Sage Rosenfels or Tarvaris Jackson before all of the Favre talked spread, and now those two players will battle it out in camp. Chances are, Rosenfels and Jackson are going to put all of these behind them fairly quickly and get ready for training camp. With the season still a couple months away, Favre will be old news in Minnesota in a few weeks and the players will move on.
Then again, the season is still a couple of months away, so Favre could still change his mind…no! He wouldn't…would he?!