Robinson to sign a one-year deal? What about Lee?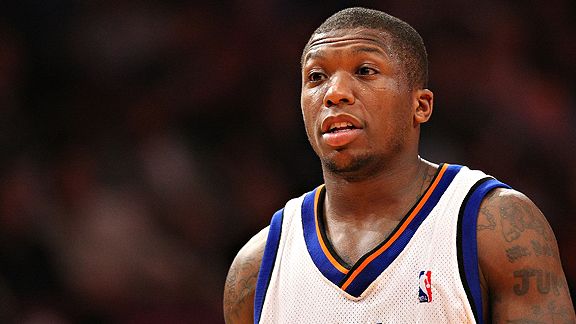 The Knicks and the sparkplug guard Nate Robinson are nearing an agreement on a one-year contract that will pay Robinson $5 million to $6 million, a person close to the negotiations confirmed Sunday.

The Knicks are attempting to maintain enough wiggle room to land one or two of the potential star free agents expected to be in the 2010 class. The Knicks would have Robinson as a usable asset; they could keep him, trade him, re-sign him or use him in a sign-and-trade next summer.

If Robinson's deal is finalized, it will almost certainly end the Knicks' flirtation with the point guard Ramon Sessions, a restricted free agent from the Milwaukee Bucks. And a deal with Robinson could help Lee's cause for a long-term deal because Robinson's contract would not tie up any salary past next season.
This isn't a bad deal for Robinson, because he gets a bigger salary and also gets to become an unrestricted free agent next summer. Normally, restricted free agents who can't come to terms on an extension end up signing a one-year tender that allows them to enter free agency again the following summer. The Knicks are doing Robinson a favor, and even though it's not the long-term contract that he wants, it should keep him happy for the season. (And, as a Bucks fan, I'd be happy to see the Knicks end their courtship of Ramon Sessions, though I'm not sure why Robinson's one-year deal means that the team still can't use their mid-level on Sessions, if they think he's the long-term answer at the point.)
As for Lee, the Knicks seem more interested in signing him to a long-term deal. And why not? He has proven that he can be productive without needing a lot of touches. But he's just an average defender, so the Knicks don't want to pay the $10-$12 million per season that he's asking. He'd be smart to work out a long-term deal for around $8 million a year and stay in New York, but with some of the strange contracts we've seen this summer despite the terrible economy, his camp is still holding out for a big payday.
7/28 Update: The New York Post reports that no deal is imminent for Robinson.