Phillies: Jays want too much for Halladay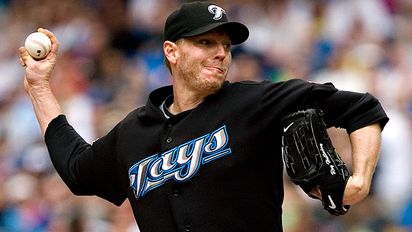 According to a report by the Philadelphia Inquirer, the Phillies can have Blue Jays ace Roy Halladay. All it would cost them is young major league pitcher J.A. Happ, top pitching prospect Kyle Drabek, high-ceiling outfield prospect Dominic Brown, the International Space Station, Citizens Bank Park, the moon, a fighter jet, an HD copy of Erin Andrews' peephole video and a rare (never been heard) collection of Guns N' Roses songs on vinyl.
Shockingly, the Phillies don't want to part with all of that:
According to an executive of one team that has spoken with the Phillies' brass, the Phillies are adamantly opposed to giving up both Happ and Drabek. There are indications they would like to substitute pitching prospect Carlos Carrasco for one of those two, preferably in place of the highly regarded Drabek.

Blue Jays officials have told other clubs that Philadelphia still hasn't informed them it was unwilling to include both pitchers in a package for Holliday. But another source said the two sides are currently discussing "a list of seven or eight names" that will constitute the framework of a 3-for-1 or 4-for-1 deal.

Drabek, Happ and Brown are on that list, along with Carrasco, outfielder Michael Taylor, catcher Lou Marson and shortstop Jason Donald. It's believed that hard-throwing Class A righthander Jason Knapp was also on the list at one time. But Knapp just went on the disabled list with "shoulder fatigue." So, according to one source, talk about him has "cooled."

Now that the Blue Jays have finished scouting the Phillies' system, the two sides have reached the stage where they are swapping names back and forth, according to multiple sources.
What's interesting about this situation is that it appears that both of these teams are somewhat close to striking a deal for Halladay. But Toronto is going to have to back off its demands a tad (maybe they don't go after Drabek and the space station) in order to complete a deal.
A package of Happ, Carrasco and Brown for Halladay seems like a fair deal for both sides. It would still be a steep price to pay for Philadelphia, but Halladay is as close to a guarantee as you're going to get and he would dramatically raise the Phillies' chances at getting back to the World Series.