The Bucks need to hold onto Ramon Sessions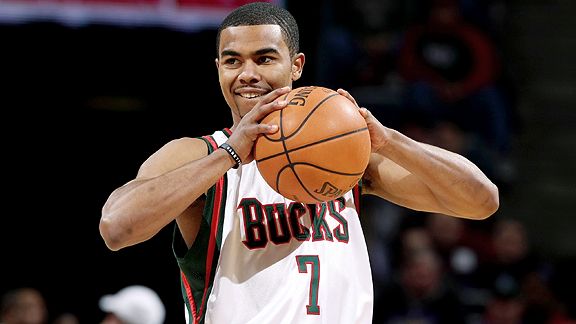 Milwaukee Journal-Sentinel columnist Michael Hunt says that Bucks' best move may be to let Ramon Sessions walk if he signs an offer sheet with another team.
He starts off by discussing Charlie Villanueva's new contract.
Because having Villanueva back on a bloated payroll would've exposed the Bucks to the NBA's luxury tax – an insane notion for a team that wasn't going to make the playoffs with him – they simply did not want him for financial reasons. And that's beyond the fact that, at 6 feet 11 inches, he stood on the perimeter shooting threes and didn't play defense.

Who knew he would get $7 million from the Pistons?
I don't want to toot my own horn, but I'm going to go ahead and toot it anyway. In our free agency preview, I estimated that Villanueva's value was somewhere in the range of $5.5-$6.5 million per year. And that was before the Bucks elected not to extend the qualifying offer that would have made him a restricted free agent.
This notion that the Bucks wouldn't be a playoff team with Villanueva on the roster is poppycock. They lost Andrew Bogut for 46 games and Michael Redd for 49 games and still won 34 games last season. Had they won six more games, they would have made the postseason. Does that in itself justify paying the luxury tax? No, but the Bucks clearly have (or had, before this summer) the talent to make the playoffs.
Hunt is right in that Villanueva didn't play much defense, but that doesn't change the fact that small market teams can't afford to let assets get away without any compensation. Did the Bucks explore a sign-and-trade? Maybe the Pistons would have been willing to give up a first round pick and an expiring salary (or Amir Johnson, if he were still on the roster) for Villanueva. Sure, extending that qualifying offer would have put the Bucks over the luxury tax threshold, but is it worth it to give away your good players just to avoid the tax? For the Bucks, maybe it is. But that's not how you build a winner.
Now, onto the Ramon Sessions situation…
The Bucks, for good or ill, have cast their lot with Brandon Jennings. He is their point guard moving forward and will start, barring unforeseen circumstances, from Day 1. They prefer their first-round pick's upside. They like the fact Jennings is quicker and much more spontaneous with his open-floor decision-making.
I must have missed the announcement where John Hammond or Scott Skiles declared that Jennings would start. His performance in summer league was encouraging, but Sessions is still way ahead of Jennings in terms of experience and know how. If the Bucks have truly cast their lot with Jennings, the best thing for him long term would be to force him to battle Sessions for that starting job, not just hand it over to him. Sessions is a tough kid, and he's not going to give up without a fight. I'd pay to watch these two go at it in practice.
But that doesn't mean they don't want Sessions. They would gladly take him back . . . at a price.

I'm guessing the Bucks would match anything up to $3 million the New York Knicks or someone else might or might not offer Sessions. That way, they'd stay about $2 million beneath the luxury-tax threshold for flexibility purposes, plus they'd have another skilled young player with an inexpensive contract that they could possibly move somewhere down the line.
Three million, eh? That's what a 23-year-old with the 13th-highest PER amongst point guards garners these days? Sessions has the 5th-highest PER amongst point guards under the age of 26. This means that if he continues on his current career trajectory, he has a great shot at being a perennial top 10 point guard in the NBA. And Hunt (or the Bucks) think that's worth a maximum of $3 million a season.
Unless the Bucks get some real players in the next couple of years, the best-laid plans of John Hammond and Scott Skiles will go kaboom.

Soon enough they will get out from under the Michael Redd and Dan Gadzuric contracts as they did the suffocating deals of Bobby Simmons, Mo Williams and Richard Jefferson.
I'll agree that Simmons and Jefferson were overpaid, but the Simmons' signing wasn't all that bad until he hurt his foot. He just wasn't the same player after that and I don't fault Bucks management for something that was out of their control. But Mo Williams has a suffocating deal? He was a borderline All-Star this year — in fact, he made the team as a fill in — and stands to make $8.9 million this year. Sure, he didn't come up very big in the playoffs, but I still think the Cavs' feel that they have a pretty good deal in Williams.
It's very difficult for small-market teams to attract big-name free agents, so they have to build their roster through the draft and via trades, and hope that they can convince a free agent or two to join the fight by overpaying (like the Magic did with Rashard Lewis). Since the salary cap was implemented in the 1984-85 season, 18 of the 25 titles have been won by the Lakers (7), the Bulls (6), the Pistons (3) and the Celtics (2), all big-market teams. The other seven titles were won by the Spurs (4), the Rockets (2) and the Heat (1). Houston is actually a very big television market (10th) and so is Miami (16th) — plus they have much better weather — so the only market that really compares to Milwaukee (35th) is San Antonio (37th).
The Spurs lucked out by getting Tim Duncan after David Robinson missed the 1996-97 season due to injury. They landed Tony Parker late in the first round and Manu Ginobili in the second. Suddenly, they became a place where veterans wanted to go to join a serious contender.
The Bucks don't have their Tim Duncan. I like Andrew Bogut, but Milwaukee's fortune of landing the #1 pick in 2005 was offset by the misfortune that the clear first choice in that draft was not the best player that year. The Bucks would have been better off drafting third or fourth where no one would have blamed them for drafting Chris Paul or Deron Williams. Then they'd have their Tim Duncan…sort of.
But the past is the past, and the Bucks are faced with losing an up-and-coming, highly-efficient, very talented point guard because they aren't (or may not be) willing to pay him more than $3 million per season. If the Bucks are smart, they'll match any offer up to the mid-level and let Sessions and Jennings battle every day in practice. Sessions has already proven he can be productive in 25 minutes per game, so it's not like he's going to suddenly lose his value because he has to share time with Jennings. And neither guy is a great shooter, so the Bucks won't have to drastically change their offense when one guy subs into the game.
One thing's for sure — Sessions is an asset, and he shouldn't be let go because the Bucks want a $2 million cushion under the luxury tax. Heck, there's no guarantee that Jennings is going to pan out or that he'll get along with Scott Skiles. Sessions might just turn out to be the Bucks' point guard of the future.