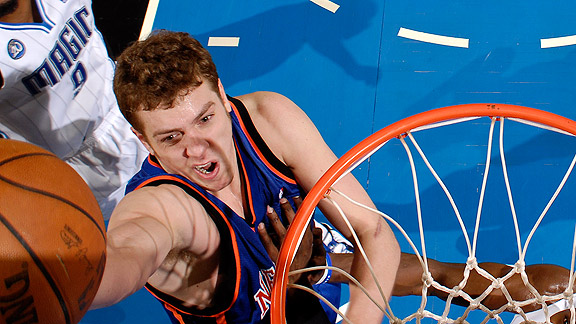 Restricted free agent David Lee is frustrated that he hasn't been able to come to terms on a new contract with the Knicks.
"At the start of this process I was really excited to be in New York, I thought it wouldn't be too difficult to work something out, but now we're forced to start looking at different options with sign-and trades and stuff like that," Lee told ESPN.com. "I'm sure it's going to be something we're not expecting, it's going to be something that's very complicated. But my gut would be that it's going to be difficult at this point to get a long-term deal done with New York, that's my gut."

Lee is seeking a five- or six-year contract in the range of $50-60 million, with New York willing to spend something more in the area of $8 million per season.

"He has an agenda with his agent, and rightly so, and [Knicks president] Donnie [Walsh] has an agenda that I think everybody knows, and right now they're not coinciding — and until somebody kind of changes that format, it's going to be a little bit apart," [head coach Mike] D'Antoni said. "Hopefully we can get it changed. We're exploring everything, and we're trying to stick to our guns a little bit, and that's about it. We love David, we'd love to have him back, but I don't think we can do it at any cost. That's what's being defined right now: What's that cost? And so far they haven't been able to agree on it."

"Going forward I thought I could still be a big piece of the puzzle — and it's not as though I'm looking at a max contract, or talking about either me OR LeBron. I thought it was something where we could get something done and they'd still have more than enough left over for what they wanted in the future, but apparently there's some disagreement on that — just on how the Knicks want to move forward. And I think at this point they're not completely sure what they're going to do and how they want to proceed," Lee said.

"I'm not going to go with angry or disrespected, that's not the way we feel," Lee said. "I understand the Knicks have a lot of different factors they're considering. At this point they're looking toward the future and trying to figure out exactly what they want to do, and possibly even confused about what they want to do. I don't know that they're 100 percent sure right now, just from what Donnie is saying, that they 100 percent know what direction they want to go in. You've seen that with the different guys [Jason Kidd and Grant Hill] they've been trying to get, and they haven't gotten them."
In his comments, Lee paints the Knicks as a team that doesn't know what it wants to do. I don't think this is a case. The Knicks want Lee back, but not at $10 million per season. Just because the team won't meet his asking price, it doesn't mean that they don't know what direction they're going.
Here is what I wrote about Lee when there were reports that he was looking for $12 million per season.
The other thing to consider when trying to estimate Lee's overall value is the pace at which the Knicks play, and how it affects his stats. The Knicks use 99.0 possessions per game, but the league average is only 94.1, so if Lee were playing for a team playing at an average pace, his stats would drop to 15.2 ppg and 11.1 rpg. Those are still impressive numbers, but I wonder if he'd be quite as productive if he weren't playing in D'Antoni's wide open system. It's not just the Knicks' pace, it's the opportunities that the team's pace creates in transition. I'd expect him to be a 14/10 guy for an average team, and that's hardly worth $12 million per season.
Lee isn't a guy that the Knicks can dump the ball to in the post and expect him to score. He gets his points in other ways, a la Shawn Marion, though he doesn't have Marion's defensive prowess or three point range.
The Knicks are projected to have a payroll of just under $24 million heading into the summer of 2010. If they sign Lee to a deal worth $10 million a season, and the cap comes in at around $50 million as some forecasts have said, that only leaves about $16 million to sign a big-name free agent next summer. If they can sign Lee for $8 million a year, they'll have a little extra flexibility and it could mean all the difference in the world.