Blue Jays unlikely to trade Halladay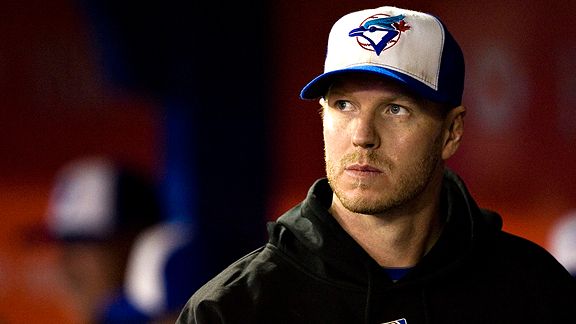 Blue Jays GM J.P. Ricciardi has set a July 28 deadline to complete a deal for ace Roy Halladay, but admits that a trade is probably unlikely.
"At this point, it's probably unlikely that we'll trade Doc," Ricciardi said Tuesday.

"No one has really stepped up yet," Ricciardi said. "We've got to be highly motivated to move him. We haven't been highly motivated yet."

"In three days, not much is probably going to happen," Ricciardi said. "It's such a magnitude, the trade. He's got to OK the team he's going to, we've got to agree on prospects. That doesn't happen, traditionally in baseball, in one hour. I think we need a little more time than that."
If a trade is unlikely, then I have to question Ricciardi's thinking behind putting Halladay (somewhat) on trade market in the first place. Granted, he's said all along that he would have to be blown away by any offer, but what was he expecting?
If he believed that some team was just going to swoop in and offer him three top prospects and a bona fide All-Star for Halladay without even attempting to do the negotiation dance, then Ricciardi has been in la-la land the entire time. Halladay is a phenomenal pitcher and could easily make a playoff contender into a World Series favorite, but the Doc is also 32, doesn't come cheap, and becomes a free agent in a year and a half. That's a lot to consider for a team even remotely interested in him, nevertheless one seriously entertaining putting a package together.
I think Ricciardi never had serious intentions on trading Halladay in the first place. Putting Halladay on the trade market this year was essentially a practice round for him next year when he will actually have to move the ace before Doc becomes a free agent after the 2010 season. With the Jays freefalling out of first place following a red-hot start, Ricciardi couldn't risk the backlash he would receive trading away the club's most popular player.
While there's still a chance he could be dealt, it appears that Halladay is going to be a Blue Jay until this time next year.