Odom-to-Miami looking like a real possibility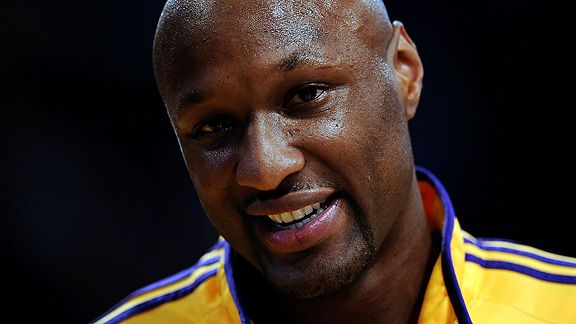 Yesterday, when we learned that Lamar Odom called Lakers owner Jerry Buss to try to smooth things over, it seemed (fairly) inevitable that the two sides would come to some sort of understanding and Odom would return to the Lakers. But a day later, it looks like there is a real chance that he may end up signing with the Miami Heat.
Amid a growing sense around the league that the Miami Heat have a real shot at stealing Lamar Odom away from the Los Angeles Lakers, Odom is expected to take the weekend to ponder his next move.

Sources with knowledge of Odom's thinking told ESPN.com that he has not abandoned hope of resuscitating serious negotiations with L.A. after Lakers owner Jerry Buss angrily pulled a three-year, $27 million offer off the table earlier this week.

According to a broadcast report Friday night from longtime L.A. television anchor Jim Hill, Odom called Buss directly on Thursday in an attempt to reignite talks.

The Heat, meanwhile, have made it clear that they are prepared to offer the richest contract they can in an attempt to convince Odom to stop haggling with the Lakers, with the Dallas Mavericks also eager to offer the same fallback option.

Heat star Dwyane Wade made a public plea Friday for Odom to return to the franchise that sent him to the Lakers in the Shaquille O'Neal deal in the summer of 2004, announcing that "we want him back home."

According to sources close to the process, Odom has been apprised that he can sign a five-year Heat deal consuming all of the team's mid-level exception, which would be worth $34 million and include the option to return to free agency after three years and negotiate a larger contract with Miami.
Read the rest of Marc Stein's column (which he's been updating throughout this process) here.
I think this all comes down to Jerry Buss's mood. Odom wouldn't have called him if he didn't want to take the Lakers' offer. But Buss pulled the offer after negotiations fell apart, and it's not clear how willing he is to open talks again.
Ultimately, cooler heads are likely to prevail. With Richard Jefferson landing in San Antonio, Shawn Marion headed to Dallas, and Portland sitting on a load of cap space, the Lakers' Western Conference foes are getting better, and even though they signed Ron Artest, they know they can't afford to lose both Trevor Ariza and Lamar Odom this summer.
Or maybe they can. Like I said, this all depends on Jerry Buss. He made Odom an offer that was well above his market value and Odom's camp tried to put the squeeze on him.
Hell hath no fury like an owner scorned.
Posted in: NBA, News, Rumors & Gossip
Tags: 2009 NBA free agency, 2009 NBA free agents, 2009 NBA offseason, Dwyane Wade, Jerry Buss, Jerry Buss Lamar Odom, Lamar Odom, Lamar Odom contract, Lamar Odom free agent, Lamar Odom rumors, Los Angeles Lakers, Miami Heat, NBA free agency, NBA free agents, NBA rumors