Aikman, Holtz, Cooper inducted into College Football Hall of Fame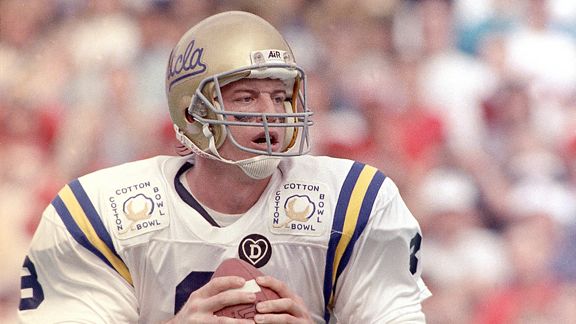 Along with 21 other ex-coaches and players, former UCLA and Dallas Cowboys' quarterback Troy Aikman was inducted into the College Football Hall of Fame on Saturday. Former head coaches Lou Holtz and John Cooper were also inducted, as well as ex-players Thurman Thomas and Sam Mills.
Among the others honored Saturday were former UCLA quarterback Troy Aikman, former Oklahoma State tailback Thurman Thomas, former Army quarterback Arnold Tucker and John Cooper, who coached at Ohio State, Arizona State and Tulsa.

Jim Donnan, who coached at Marshall and Georgia, poked at Holtz for choosing an overseas opponent.
"One thing about Lou, he knows how to schedule," Donnan said. "Playing the Japanese he has a good chance of winning."

Holtz and Cooper agreed that the key to their successful careers were great players.

"The difference between a good coach and a Hall of Fame coach is players," Cooper said. "You win with people. Show me a winning coach and I'll show you a coach that has good players."
Check out the entire list of inductees by clicking here.