Jared Allen: 'Brett Favre situation is annoying.'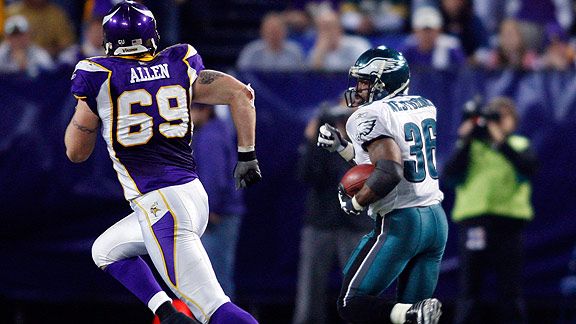 Count Minnesota defensive end Jared Allen in as someone who also finds Brett Favre's dance with the Vikings annoying.
But even the most patient of hunters has his limits, and Allen pretty much has reached his when it comes to the Vikings' months-long pursuit of Brett Favre.

"If we get Brett, then that's a bonus," the All-Pro defensive end said in a phone interview. "But let's either get it done and get moving on with it or let it go.

"It's not so much that it's a distraction because we're professionals and don't really buy into that. But it's annoying."

"I say it all the time: If you can get a player of that caliber at any position, you take him," Allen said. "If Lawrence Taylor came out of retirement, you take him just to see what he can do. … Brett absolutely has proven that he's one of the best ever at what he does.

"But our goals going into the off-season weren't, let's win a championship if we get Brett Favre. It's, we're going to win a championship. And I feel like we have two able quarterbacks to get that done."
One had to wonder what kind of an effect Favre's song and dance with the Vikings would have on the players currently on Minnesota's roster – and not just quarterbacks Sage Rosenfels and Tarvaris Jackson. At some point, if you're a player on the Vikings you get tired of trying to answer the same questions over and over again.
This is something that seems to elude Favre. Never mind that an entire organization comprised of coaches, players and front office personnel has to wait for his decision – it's all about Brett and what he wants to do. I don't blame Allen, or anyone else for that matter, if they're becoming a little annoyed about this pending marriage.