Lakers pull offer to Odom off the the table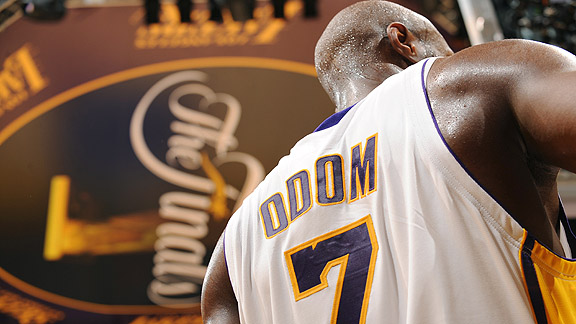 It seems that Lamar Odom and the Lakers have reached something of a stalemate.
Sources told ESPN.com that Odom and the Lakers had reached an accord entering the weekend on a per-season wage of $9 million for the 29-year-old. But Odom balked at L.A.'s unwillingness to extend an offer spanning more than three years in length and spent the past few days weighing his options.

Yet it's believed that Odom has indeed received offers from the Miami Heat and Dallas Mavericks that — because neither Florida nor Texas imposes state taxes — are not as far away in value from the Lakers' presentation as it would seem.

Odom would have the ability with either the Heat or the Mavericks to sign a three-year, $19 million contract and negotiate a new deal with full Larry Bird rights in the summer of 2012 or take a five-year deal worth $34 million to bank more overall money, along with the state-tax benefits, than he could in a new three-year deal with the Lakers.
It's funny how certain things come to light as these deals are made, or in this case, not made. California's tax rate for people making more than $1 million is 10.3%, while Florida and Texas do not tax personal income. That means that the Lakers' three-year offer is worth about $8 million per season after state taxes, or just over $24 million total. Compare that to the deals that the Mavs and Heat could offer ($19 million for three years or $34 million for five years) and a mid-level deal in a state with no income tax isn't too far off.
Still, why would Odom reject the Lakers' offer if everyone knows it's the best that he has available? Portland isn't interested, though that could change if the Jazz match the Blazers' offer sheet to Paul Millsap. None of the other teams with cap space seem too eager to make a run at Odom, so it seems strange that he is playing hardball here. It's not like he has a history of playing consistent basketball year in and year out. As far as his on-court performance is concerned, the guy is kind of a flake.
My guess is that Odom's camp waits to see what happens with Portland then come back to the Lakers and accept this three-year deal. But one wonders if Jerry Buss is sick of playing games and might decide to stick it to Odom if/when he comes crawling back.