Favre to give Vikings an answer by July 30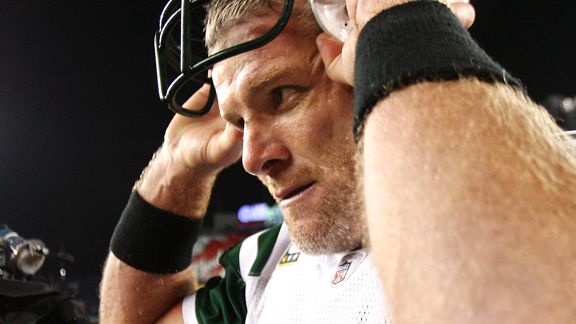 The annoying, ongoing song and dance being performed by Brett Favre and the Minnesota Vikings could be coming to an end soon.
According to the Associated Press, Favre will give the Vikes an answer on whether or not he intends to play in 2009 by July 30, which is when Minnesota opens its training camp. Favre said that he felt pretty good after a recent workout, but still has yet to commit himself to playing for the Vikings (or anyone for that matter) this season.
Apparently Favre has increased his workouts to four days a week and says his velocity is back after having surgery in early June to repair a biceps muscle in his throwing arm. At 39 years old, he wouldn't increase his workout regiment if he didn't intend on playing, so it's probably safe to assume that he'll give the Vikings a "yes" on July 30.
If he says that he needs more time, let's hope that Minnesota officially pulls its offer off the table and tells Favre to stick it where the sun don't shine. This charade has gone on long enough (even though technically this is a dead time in the NFL) and the Vikings need to show a commitment to either Sage Rosenfels or Tarvaris Jackson if Favre can't give them a commitment.