White seeking a new contract – Abraham too?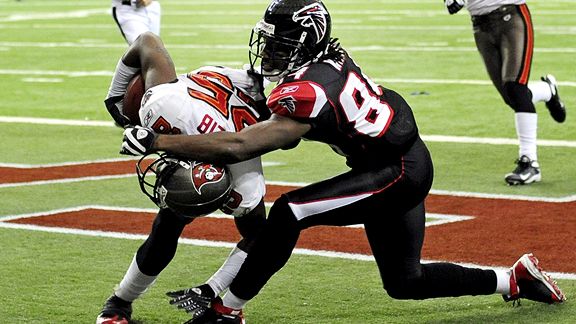 The Atlanta Falcons were one of the best stories in the NFL last year, as they rose from the depths of football hell and became a playoff team thanks to the roster construction of new GM Thomas Dimitroff, the guidance of new head coach Mike Smith, and the outstanding play of guys like Matt Ryan, Roddy White, Michael Turner and John Abraham.
But Dimitroff's job is far from over and now he has the unenviable task of trying to make some of the current players financially happy. The first being White, who enters the final year of his rookie contract, and the other is Abraham, who some believe is searching for a new deal himself.
Dimitroff's first priority should be White, who one would assume is seeking Greg Jennings-type money. The productive Packers' wideout recently signed a three-year extension worth $27 million in base salary, as well as $16 million in guaranteed money. White is certainly worth that type of loot, especially considering he has emerged as one of the better receivers in the game and is clearly the Falcons' best young playmaker.
Chances are, Atlanta will re-sign White before the season starts. There's no reason to play hardball with their best receiver, especially considering how productive he has been over the last three seasons. With Michael Vick's salary completely coming off the books after the 2009 season, the Falcons should have more than enough money to throw at White.
Abraham, however, could be a different story. When he was acquired via a trade from the Jets in 2006, he wound up signing a six-year, $45 million contract. The deal also included a $12.5 million signing bonus, but now NFL Network's Steve Wyche is hearing "rumblings" that Abraham is seeking a new contract and while he won't command Albert Haynesworth-type money, he might ask for what Jared Allen is making ($73.26 million over six years).
Granted, this is just a rumor and no other media outlet has confirmed Wyche's report. But if Abraham does want a new deal, he might not have much leverage considered he's 31 and is already set to make $5 million in 2009. He can be a one-man wrecking crew at times and as he went, so did the Falcons' defense last year. But he seemingly is already being paid what he's worth, so it'll be interesting to see how the situation plays out.