David Lee looking for $12 M per season?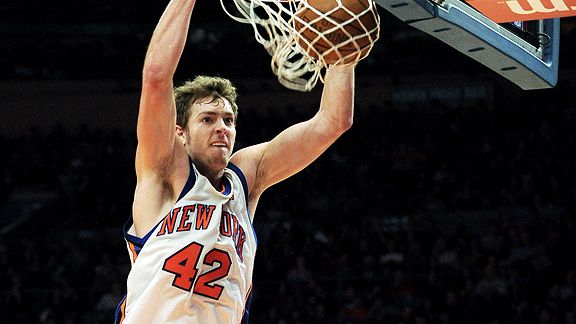 Wondering why David Lee is still on the restricted free agent market? It might be because his asking price is a whopping $12 million per season.
The Knicks have not made a formal offer but are hoping to keep Lee for about $7 million to $8 million per season.

It could take much longer to determine the fates of Lee and Robinson. They are restricted free agents, making them a gamble for rival teams. Lee's asking price may also be a big obstacle. His agent, Mark Bartelstein, is seeking $12 million per season, according to an executive whose team is pursuing Lee.

But Bartelstein made a strong argument that Lee is a unique and valuable player. He led the league in double-doubles last season, his fourth in the N.B.A., averaging 16 points and 11.7 rebounds, and shot 54.9 percent from the field. He is just 26 and still improving as a shooter and passer.

But at 6 feet 9 inches, Lee is also undersized for a power forward and center, and he does not block many shots or provide stiff interior defense. He scores in bunches, but he cannot create his own shot. Lee could make an All-Star team but he is not viewed as a franchise player, which is why the Knicks want to keep his salary in the single-digit millions.

Bartelstein sounded frustrated at the lack of a deal.

"It's a shame David's not done yet," Bartelstein said. "The Knicks have the ability to get him signed. The other teams don't, because they don't know if the Knicks will match or not, or go through a sign-and-trade."
Here's what I wrote about Lee in our preview of this year's crop of restricted free agents…
2. David Lee, PF (26)
PER: 19.07
GM Donnie Walsh said that the Knicks' picking Jordan Hill in this year's draft has nothing to do with Lee, but the two play the same position, so of course it's going to have an effect on how the Knicks and Lee each view their relationship. The other issue is that two of the Knicks' targets in 2010 are Chris Bosh and Amare Stoudemire might also play the same position as Lee, though Mike D'Antoni would likely play either at center, allowing Lee to play power forward. He gets most of his points off the glass, so he'd be a good fit with either of those guys. The Knicks are projected to have about $35 million in cap space heading into the summer of 2010 and whatever deal they sign Lee to will cut into that. If they want to keep Lee and sign two big-name free agents, then they're going to have to rid themselves of either Jared Jeffries or Eddy Curry prior to 2010. I like Lee, but he's not a guy that you can give the ball to on the block and expect him to score, and that limits his value somewhat as a big man. The Thunder, Kings, Grizzlies, Raptors and Pistons could all make a serious run at Lee, though anytime a team tries to poach a restricted free agent, it's a delicate balance between offering him enough to convince the other team to let him go, while getting a reasonable deal at the same time.
Value: $9.0 – $10.0 million per year.
Here is John Hollinger's scouting report for Lee…
Scouting report: Lee is a quick, bouncy leaper who aggressively crashes the boards at both ends; he's also outstanding at tipping in offensive rebounds and can do it with either hand. That applies to his offensive game in general — though he's left-handed, Lee is pretty much ambidextrous and can finish from either side of the rim.

Though he's a good foul shooter, Lee rarely shoots from outside and hasn't been all that effective when he has. Additionally, he has a limited post arsenal that he only breaks out when he has an obvious mismatch. Instead, his specialty is running the floor and moving without the ball to get dunks and layups.

Defensively, Lee is unexceptional. Physical players can muscle him into deep post position, and he's not a great help defender or shot-blocker. His dexterity for his size is helpful, and he might be able to make more of an impact in a system that encourages players to actually try on defense.
Lee's scouting report over at DraftExpress goes into more depth, but says essentially the same thing (though they are higher on his defense).
With the recent financial news released by the NBA, it's going to be tough for the Knicks to clear enough cap space to sign two superstar free agents next summer, so they may want to target one and try to compile a roster that would be appealing for LeBron James, Dwyane Wade, Chris Bosh, Amare Stoudemire or even Joe Johnson. Lee would be a good fit with any of those guys, because in Mike D'Antoni's system, Bosh or Stoudemire would likely play center. The Knicks' pick of Jordan Hill in the draft is puzzling, as he and Lee would play the same position, so it's unclear if GM Donnie Walsh was planning on keeping Lee all along.
The other thing to consider when trying to estimate Lee's overall value is the pace at which the Knicks play, and how it affects his stats. The Knicks use 99.0 possessions per game, but the league average is only 94.1, so if Lee were playing for a team playing at an average pace, his stats would drop to 15.2 ppg and 11.1 rpg. Those are still impressive numbers, but I wonder if he'd be quite as productive if he weren't playing in D'Antoni's wide open system. It's not just the Knicks' pace, it's the opportunities that the team's pace creates in transition. I'd expect him to be a 14/10 guy for an average team, and that's hardly worth $12 million per season.
Don't get me wrong — I like Lee — but he's an energy guy (albeit one of the best energy guys in the league) and energy guys don't usually get fat contracts. Shawn Marion is the exception, not the rule. Besides, Lee doesn't have Marion's three-point range or his ability to defend on the ball.
Comments Off on David Lee looking for $12 M per season?

Posted in: NBA, News, Rumors & Gossip
Tags: 2009 NBA free agency, 2009 NBA free agency rumors, 2009 NBA free agents, 2009 NBA offseason, 2009 NBA rumors, David Lee contract, David Lee free agent, David Lee rumors, NBA free agency, NBA free agents, NBA rumors, New York Knicks