Brandon Jacobs slams Tony Romo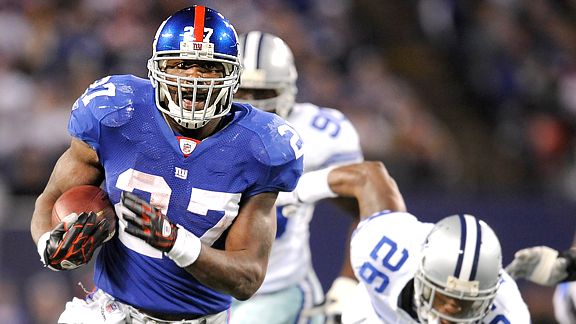 Brandon Jacobs…not a fan of Tony Romo.
Brandon Jacobs, the Giants' bruising running back, ranks among the NFL's best trash talkers. The Cowboys, particularly Patrick Crayton, are his favorite target.

And Jacobs took aim at Tony Romo today on ESPN 1050 in New York, per Pro Football Talk.
"I don't think he's that good a passer, to be honest with you," Jacobs said.

We could put together a pretty impressive statistical argument in Romo's favor. But why ruin the fun?

"I'm not a fan of Tony Romo, no. Keep him in the pocket, he's not that good. . . . His luck will be gone sooner or later. If you were to keep Tony Romo in the pocket he's not that effective."
We'll be sure to revisit this subject in September, when the Giants come to town for the first regular-season game at JerryWorld.
Damn I miss football…