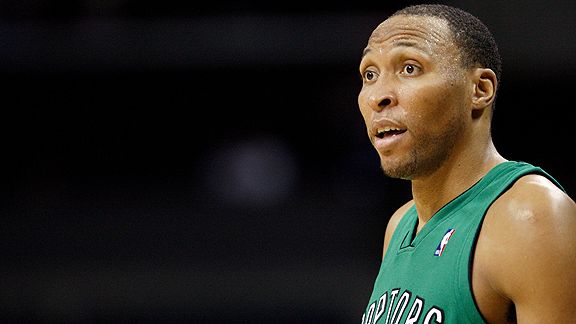 As part of a complicated four-team trade, it looks as if Shawn Marion is about to become a Maverick.
The deal, according to sources, calls for the Mavericks to acquire Marion and Kris Humphries from Toronto and Greg Buckner from Memphis, with Marion to receive a five-year contract worth an estimated $39 million. Buckner has had two previous stints with the Mavericks but is likely to be released, sources said.

The Grizzlies will land Jerry Stackhouse from Dallas and a substantial cash payment to buy out Stackhouse's contract. Only $2 million of Stackhouse's $7.25 million salary next season is guaranteed, as long as he is waived by Aug. 10.

The Raptors will receive Devean George and Antoine Wright from the Mavericks, while also preserving their $5.9 million mid-level exception for the coming season by turning their acquisition of Turkoglu — who is getting a five-year deal worth an estimated $53 million — into a sign-and-trade as opposed to an outright signing. Assembling the trade this way could also enable Toronto to re-sign Carlos Delfino, after it appeared that the Raptors would have to renounce Delfino to help make room for the Turkoglu signing.

The Magic, meanwhile, were motivated to join in the trade because their participation, as opposed to merely letting Turkoglu walk, will create a valuable trade exception they can use in future deals worth around $7 million.
Mark Cuban is arguably the most polarizing owner in the league, but he isn't afraid to try to make his team better. Whether it's an ill-advised Jason Kidd-for-Devin Harris swap, the mid-level signing of Marcin Gortat or working out this sign-and-trade to land Marion, Cuban has always been willing to do what's necessary to win.
With these moves, Dallas can start Marion at small forward next to Dirk Nowitzki and shift Josh Howard to shooting guard, with Sixth Man Award winner Jason Terry staying in a bench role. The Mavericks also believe that they will have a strong small-ball unit when they elect not to play Gortat or Erick Dampier, featuring Howard at small forward, Marion at power forward and Nowitzki at center.
$8 million per year for five years is a lot to pay for a 31-year-old, but Cuban knows that Nowitzki's window is closing and the Mavericks' time is now. Dallas now has a formidable starting lineup — Kidd, Howard, Marion, Nowitzki and Gortat — that has features four All-Stars, with Terry, J.J. Barea, Matt Carroll and Dampier coming off the bench. It will be interesting to see if the Mavs are able (or willing) to retain Brandon Bass, who is a free agent this summer.
Posted in: NBA, News, Rumors & Gossip
Tags: 2009 NBA free agency, 2009 NBA free agency rumors, 2009 NBA free agents, 2009 NBA offseason, Dallas Mavericks, Mark Cuban, Memphis Grizzlies, NBA free agency rumors, NBA rumors, Orlando Magic, Shawn Marion, Shawn Marion free agent, Shawn Marion trade, Toronto Raptors