LeBron pledging to stay in Cleveland?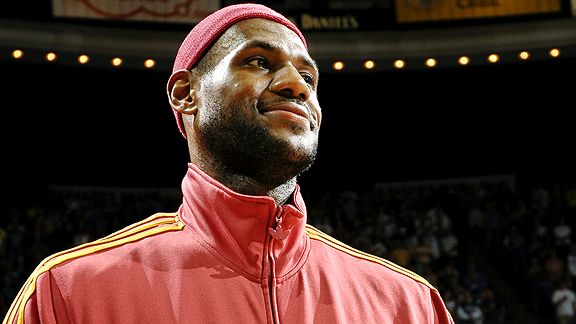 Yes, at least according to a "source" close to Trevor Ariza…
The Cleveland Cavaliers got some bad news followed by some potentially terrific news on Sunday. In a last-ditch effort to recruit Trevor Ariza away from the Houston Rockets, LeBron James told Ariza he would remain with the Cavaliers past 2010, according to a person close to Ariza.

Even that wasn't enough to get Ariza, who verbally committed to join the Rockets last Thursday, to change his mind and go to Cleveland.

But the Cavaliers will gladly settle for the consolation prize; if indeed James' statement to Ariza was more than an empty sales pitch.

"Trevor asked LeBron if he would be in Cleveland after next season," the source said. "And LeBron said, 'I'll be there. Of course, I'll be there.'"

When James told Ariza he'd be a Cavalier past next season, Ariza was less than convinced.

"He thought it was just a recruiting tool," the source said. "LeBron definitely said it, but until he signs the contract it doesn't mean much."
If James was indeed being sincere in his intentions to re-sign with the Cavs, this is about the best news that the city of Cleveland could get on a Tuesday morning in July. Of course, a lot can happen in a year and he could just be saying this to try to convince a free agent or two to join the Cavs. There's also the distinct possibility that this "source" is full of it.
The LeBron Watch continues…