Not so fast! Turkoglu picks Toronto over Portland?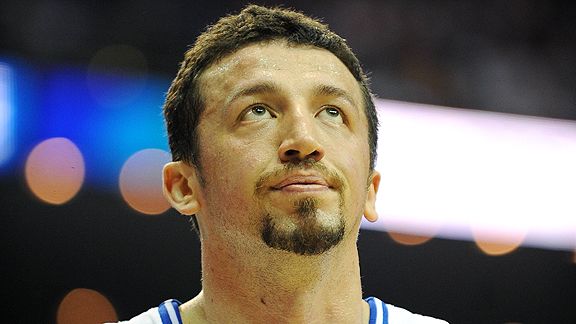 Last night, it pretty much seemed like a done deal that Hedo Turkoglu was going to sign with the Blazers, but now ESPN is reporting that the Turkish forward is going to instead sign with the Toronto Raptors.
The decision left the Blazers livid and was a huge coup for the Raptors, who have promised Turkoglu all of the salary-cap space they will have from renouncing their rights to Shawn Marion, Anthony Parker and Carlos Delfino, which will likely add up to a starting salary in the $10.1 million range, with eight percent annual raises.

A source close to the discussions said Turkoglu had given a verbal commitment to the Blazers on Thursday, then alerted the team on Friday morning that he was having second thoughts. By mid-afternoon Pacific time, the Blazers were told the deal was dead and Turkoglu would be signing with the Raptors.

Turkoglu will make about $3 million more over the life of the contract than he would have made in Portland, but a bigger reason for his change of heart, a source told ESPN.com, was his desire to play in Toronto, a more international and cosmopolitan city — one with a large Turkish population — and his familiarity with the Eastern Conference after having spent the last five seasons with the Magic.
It seems like a dangerous thing to delve inside the mind of Hedo Turkoglu, but I'm going to try. First, he sets his price tag so high that the team that made him a star — the Orlando Magic — can't or won't afford to keep him. So he'd rather play for the up-and-coming Blazers than try to repeat as Eastern Conference champs in Orlando. That's a decision I could understand. I didn't think that he'd get the $10 million per season that he was looking for, but the Blazers ponied up, and they look like a team that will be at or near the top of the West for the next several years. But to shun Portland to play for an also-ran that seems destined to lose its best player (Chris Bosh) for a few extra million doesn't make a whole lot of sense.
I suppose it's tough to turn down $3 million, but when you're talking about $53 million or $50 million, I don't see much of a difference. Personally, I'd want to play for a contender, and knowing how elusive chemistry and dynasties can be, I probably would have taken the four-year, $35 million extension from the Magic. I can't blame Turkoglu for taking the extra $15 million and heading to Portland, but I do question the reasoning behind shunning the Blazers for the Raptors.
Maybe he'll help the Raptors get back to the playoffs. Maybe he'll be the difference that will convince Bosh to re-sign. Or maybe the Raptors will flounder as a fringe playoff team and he'll eventually regret this decision as he watches Orlando and Portland play deep into the postseason year after year.