Artest to L.A., Ariza to Houston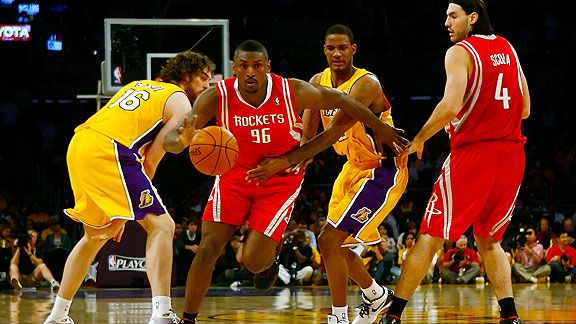 In a surprising sequence of events, Ron Artest has agreed to a three-year deal with the Los Angeles Lakers, while Trevor Ariza is headed to Houston with a five-year deal. Both contracts are of the mid-level variety, which are expected to start at about $5.8 million per season.
Just as telling is the Lakers' decision to go with Artest instead of younger Trevor Ariza. It shows they're putting everything into these next three years and not worrying too much about the future. Ariza would have wanted a five-year contract; Artest was willing to come for three. The end of Artest's contract coincides with the reported opt-out clause for Bryant. We don't know whether Kobe will choose to leave in 2012, but we do know this: He'll be 33 that summer, turning 34 in August. The three years with Artest probably represent Bryant's last stages of physical superiority over the opposition. He'll still be ahead of the pack in knowledge and determination, but we've already seen some slipping in his athletic ability and it will only decline from here.

So the Lakers are thinking short-term and trying to squeeze in a couple more championships right now. Lakers GM Mitch Kupchak was even willing to increase his roster's average age and let one of his best acquisitions walk away, two things general managers are generally loath to do.

Artest gives the Lakers the same qualities as Ariza — perimeter defense and toughness — plus the ability to get his own shot, and a dash of crazy. Ariza wound up in Artest's old spot in Houston, where he's actually a better fit. With Yao Ming's career on pause — at best — the Rockets have to position themselves to be good in a couple of years, perhaps by bringing in a major free agent in 2010 and/or having Yao return from treatment on his feet that might hinder him for the better part of two seasons. Amazing how quickly a team that seemed on the rise in these playoffs now finds itself retooling.
We'll never know if Ariza was just playing hardball when he expressed frustration that the Lakers wouldn't offer more than the mid-level because the team called his bluff and moved on. I like this signing for the Rockets, who were originally interested in Orlando big man Marcin Gortat. But when the "Polish Hammer" reportedly made a verbal agreement to join the Mavs, the Rockets moved on to the 24-year-old Ariza.
Artest is a little nutty, and he has the potential to sabotage the Lakers' season, but it's not like the team is championship-caliber because they have great chemistry. They don't. They have more talent than anyone, and when Ariza became irritated with the Lakers' unwillingness to go over the mid-level, they quickly moved on to their backup plan. Artest will accept his role in L.A. and should fit in just fine, at least defensively. But three years is a long time for him to behave; I expect he'll have at least one dust up before it's all said and done.