Pistons come to terms with Gordon, Villanueva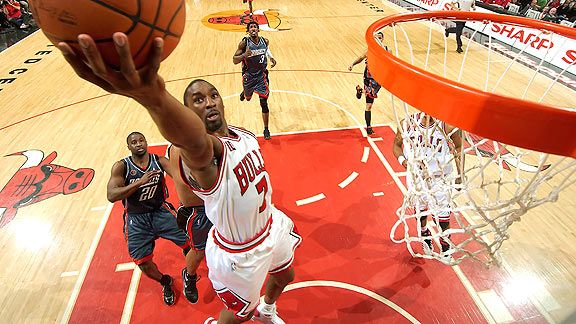 The Detroit Pistons have a ton of cap space heading into 2009 NBA free agency, and they apparently aren't afraid to use it, agreeing in principle to contracts with Ben Gordon and Charlie Villanueva.
Former Bulls guard Gordon will receive a five-year deal for between $55 million and $60 million, while former Bucks forward Villanueva gets a five-year deal for $40 million, sources told ESPN.com's Chris Broussard.

Gordon rejected deals from Chicago in excess of $50 million each of the past two seasons. Milwaukee elected to let the 24-year-old Villanueva become an unrestricted free agent earlier this week, after the Bucks determined that matching any restricted free-agent offers would move the team closer to the luxury tax threshold and limit changing the roster.
It's not surprising that the Pistons signed both of these players, but the value of the contracts seem a little high when taking the current economic climate into consideration. It seems like GM Joe Dumars is operating in a 2006 or 2007 mindset when the reality is that the demand for these players probably didn't justify $11 million per season for Gordon and $8 millon per season for Villanueva.
There are only eight teams with significant cap space this summer — the Grizzlies, Pistons, Hawks, Thunder, Kings, Raptors, Blazers and Timberwolves — and Memphis, OKC and Minnesota weren't expected to be big players this offseason. The Bulls were trying to re-sign Gordon, and they probably were in the same neighborhood of the two deals they offered over the last two years that averaged $10 million and $9 million per season, so Detroit may have felt they had to outbid Chicago to pry him away. But I just don't think he's worth it, given his defensive liabilities and his lack of size for an off guard.
As for Villanueva, he was intrigued with the possibility of playing with LeBron James and Shaquille O'Neal in Cleveland, but they could only offer him a mid-level deal, which would probably start at around $5.5 million per season. Even though his new contract's $8 million per season average is the first thing to jump out, we need to focus on the first season. The contract could very well start at $6 million and go up $1 million per season for five years, which would add up to $40 million. They needed to outbid the mid-level deal to convince Villanueva to join a non-contender. Still, that's a big commitment for a player who has a reputation for being a poor defender and has had his work ethic questioned at time. But at 24, Villanueva is still learning and is already a proven scorer.
This Gordon signing may indicate that Rip Hamilton will be moved before next February's trade deadline. Though he's getting older, he's still a highly efficient scorer and he'd definitely be able to help a contender. I doubt that it's Dumars' plan to have $22 million locked up per season at one position. If Hamilton is moved, then the Pistons would be building around a lineup of Rodney Stuckey, Gordon, Tayshaun Prince and Villanueva.
Posted in: NBA, News, Rumors & Gossip
Tags: 2009 NBA free agency, 2009 NBA free agency rumors, 2009 NBA offseason, Ben Gordon, Ben Gordon free agent, Charlie Villanueva, Charlie Villanueva free agent, Detroit Pistons, Detroit Pistons rumors, NBA free agency, NBA free agency rumors, NBA rumors