Doctors rule out surgery for Webb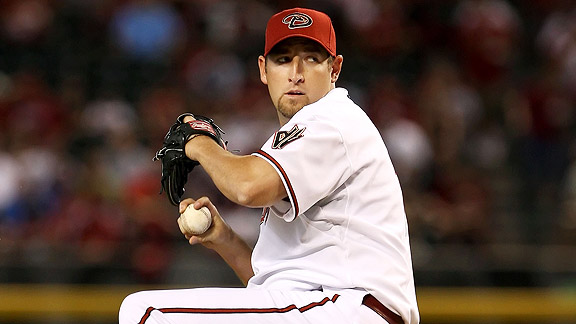 The Arizona Diamondbacks and his fantasy owners can breathe a sigh of relief, as multiple doctors have ruled out the possibility of Brandon Webb having season-ending shoulder surgery. The D-Backs ace recently completed a three-city trip in which he saw shoulder specialists in each, all whom said surgery is unnecessary.
Instead, Webb will hold off on throwing for the next four to six weeks while going through an exercise regimen designed to stabilize his shoulder and strengthen the rotator cuff area.

All three of the doctors examined multiple MRIs taken of Webb's shoulder and put him through tests to gauge its strength.

"Meister said he has seen pitchers with MRIs that look 10 times worse than mine and they are pitching without problems," Webb said.

Webb said he first began to feel some stiffness in the shoulder during Spring Training and the doctors believe that it was a teres major strain. The teres major is a muscle located outside the shoulder joint. As a result of that injury, they told him, his shoulder became weak and what he is experiencing now is an internal impingement in the shoulder.

"Yeah, I feel a lot better," he said. "I've had some of the best doctors in the world for this stuff look at me and they all say pretty much the same thing. Hopefully I can get this shoulder stronger, then start throwing a little and be back to make a few starts in September. The doctors said that's a realistic goal."
While I doubt the D-Backs will be in the playoff hunt come September, Webb can help breathe some life into the organization. Teammate Dan Haren has been excellent all year, but like Zack Geinke, he's the only active pitcher on his team that is guaranteed to give you a good performance. When Webb returns, he and Haren will try to get back the good thing they've had in Arizona.
Although Webb's contract expires at the end of this season, the D-backs hold an option for 2010 at $8.5 million or they can buy out the option year for $2 million. How he pitches upon his return will be a good indication whether or not the Diamonbacks will want to pony up or allow Webb to become a free agent.