Russell's work ethic called into question again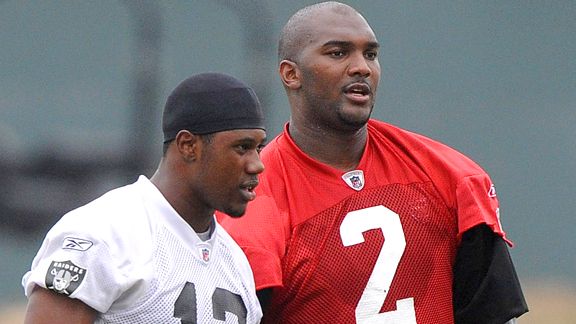 According to a report by the National Football Post's Michael Lombardi, Raiders quarterback JaMarcus Russell's work ethic continues to be called into question.
2. The work ethic of quarterback JaMarcus Russell is still being questioned by many who have worked with him in the past and are working with him now. After he issued a call to his teammates to practice and finish the OTA days strong, he then disappeared and was AWOL on the last day. Russell must learn that talent alone is not going to make him successful. Dedication to becoming a better player is what he needs.
Assuming this report is true (I'm not at Oakland's practice facility everyday), Russell is in for a wake up call soon enough. I guarantee you if Russell isn't busting his ass, Jeff Garcia (who the Raiders signed in the offseason) is. Garcia might be an aging vet and limited on the field in terms of arm strength, but he's incredibly feisty and wants to play.
Russell isn't long for the NFL if he won't work. It'll be interesting to see if more reports like Lombardi's come to light over the summer once training camp begins.