Goodell to begin review on Burress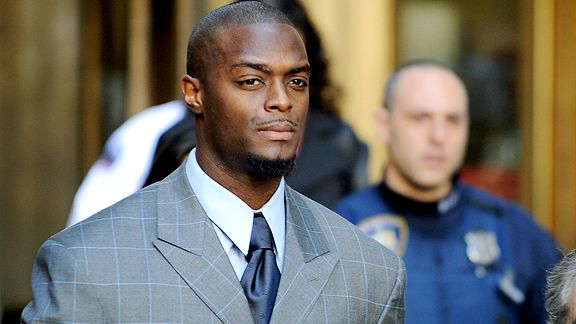 According to a report by ESPN.com, NFL commissioner Roger Goodell has told Plaxico Burress that he'll begin the reviewing incidents (i.e. shooting yourself in the leg with your own gun because you decided to secure it in the waist band of your sweat pants) involving Burress that fall under the personal conduct policy.
Burress, who shot himself in the thigh Nov. 29 in a Manhattan nightclub, was charged with criminal possession of a weapon and faces up to 3½ years in prison.

He made a brief appearance in court Monday where Judge Felicia Mennin adjourned the case until Sept. 23, enabling the former Giants receiver to continue negotiations with several NFL teams in hopes of returning to the field in 2009.

Goodell had been waiting for the legal process to be complete, but as it is delayed with no clear indication of when it will be concluded, the commissioner decided to take the initiative, league sources said.
ESPN's very own Chris Mortensen believes that Burress will be suspended at least four games, which seems realistic.
In a related topic, Burress' agent Drew Rosenhaus now says that there are five teams interested in his client's services. The Jets, Bucs and Bears are the only reported teams that are interested in Burress, so that leaves two unidentified squads. But I'm sure Rosenhaus will dream up more teams as the weeks go on.