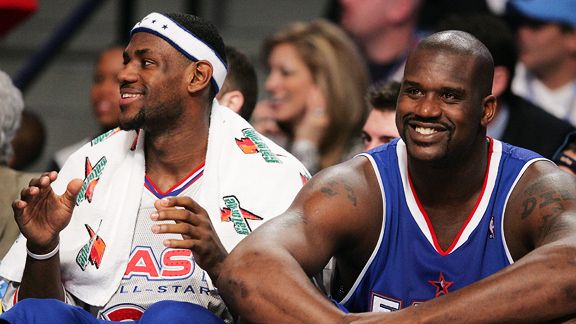 According to a report by ESPN.com, the Suns have agreed to trade Shaquille O'Neal to the Cavaliers for Ben Wallace, Sasha Pavlovic, $500,000 and the 46th overall pick.
The Cavaliers were also in talks with New Orleans about obtaining Tyson Chandler. If they had not made the trade for O'Neal, they would have traded for Chandler, according to a source.

The Cavs felt O'Neal was the better option because he has just one year left on his contract, and will not eat up cap space that will enable them to pursue free agents such as Chris Bosh in next summer's star-studded free agent class. Chandler, who had injury problems last postseason, has a player option for $12.7 million in 2010-2011 that he is likely to pick up.

For the Suns, the O'Neal trade is a straight salary dump. Pavlovic's $5 million dollar contract next season is only partially guaranteed for the amount of $1.5 million. Factor in the disparities in the contracts between Wallace, Pavlovic and Shaq and the team will save $4.5 million next season. However, when you factor in the savings they'll reap on the luxury tax, it will be closer to $10 million in savings. That savings can be amplified if Wallace decides to retire and the Suns buy him out of his contract for less than the $14 million he's owed next season.

The trade is a pretty strong admission by the Suns that the trade of Shawn Marion for Shaq in February of 2008 was a mistake. Marion was a free agent this summer and, had they let him walk, their savings would've been $21 million — not the $5.5 million they're saving in this deal.
Our very own John Paulsen had this to say about the potential trade not two weeks ago…
What's funny is that the Suns walked away from the negotiation table last season because they thought that a trio of Shaq, Steve Nash and Amare Stoudemire could contend under new coach Alvin Gentry. Stoudemire got hurt, so what's changed? It appears that the Suns are unwilling to pay the luxury tax price of keeping Shaq on the roster, that's what.

This trade has the potential to set up some serious drama next season. Imagine a (hopefully) healthy and motivated Shaq joining LeBron in Cleveland. Assuming the Lakers win the Finals, Kobe and Co. will be seeking a repeat. Imagine Shaq and Kobe squaring off for a title next season…

Whether or not this helps Cleveland depends solely on Shaq's ability to play at a high level deep into the postseason. If they do acquire him, they will need to watch his minutes closely and give him some time off during the season. Winning 66 games isn't as important as having a healthy Shaq ready for the playoffs.

I like this trade for Cleveland, but Shaq wants another extension and he knows he's not going to get it in Phoenix. It's not necessarily a good idea for the Cavs either, as any extension for O'Neal means that they won't be able to sign a big-name free agent next summer. But if they can rent Shaq's services for a season and see how it goes, then maybe he could play himself into an extension with an NBA championship.
What do you think Cavs fans?