Are the Pistons interested in Boozer?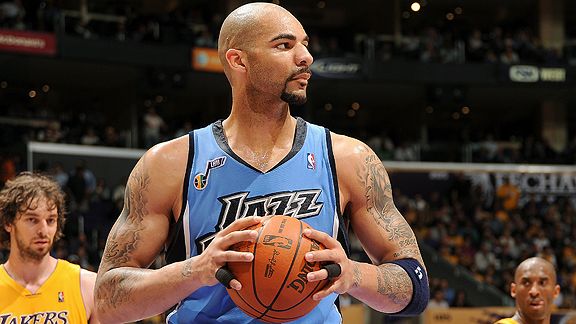 Not so, at least according to Chad Ford.
Over the past few months, we've assumed Carlos Boozer is their primary target, but that might not be the case. A league source told me Tuesday that the Pistons' free-agent strategy likely would preclude a run at Boozer.

The Pistons want to add several players to the roster and want to keep salaries at or less than $10 million per year. With Boozer likely demanding a deal in the $15 million to $16 million a year range, his contract demands are out of their league. Add in concerns about Boozer's injury history, and I don't think the Pistons will make a play for him.

Instead, you can look for them to make a run at Ben Gordon, try to re-sign Antonio McDyess and find one or two other players they can sign for smaller salaries.

That stance in Detroit could put Boozer in a tough position. If he opts out of his contract with the Jazz, he's going to struggle to find any team far enough under the cap to offer him what he wants. And with the Jazz interested in keeping Paul Millsap, Boozer could be out of luck in Utah, too.
Chad Ford contradicts himself in this piece. He says that the Pistons won't be willing to pay Boozer's asking price ($15-$16 million per season), but then says that the market won't support what Boozer is asking for.
With $23 million in cap space, why can't the Pistons sign both Boozer and Gordon? I bet Boozer ultimately signs for $12-$13 million per season, while I think Gordon will sign for something in the $8-$9 million range (which may be tough to swallow, since he turned down a contract worth $10 million per season from the Bulls).
Both players are flawed. Boozer is a great power forward, but he's injury prone. Over the past five years he has only played in 67% of his team's games. For that reason, he's not worth a max contract, so I don't expect him to get one this summer. Gordon is a great scorer, but his shot selection is suspect sometimes and he doesn't have a reputation for being a good defender. Is he really worth $10-$11 million per season? I don't think so.
If the Pistons play their cards right, they could sign both players (assuming they want both players) and then move Rip Hamilton to a contender looking for some good outside shooting.
In a smallish move yesterday, the Pistons agreed to trade Amir Johnson to the Bucks for Fabricio Oberto, who has a contract that is only partially guaranteed, potentially freeing up a little more cap space. Still, I don't understand why the Pistons would give up on the 22 year-old Johnson when they clearly need to bolster their front line. If moving Johnson ultimately results in the signing of Boozer and Gordon, then it will have paid off.