Browns likely to hang onto Edwards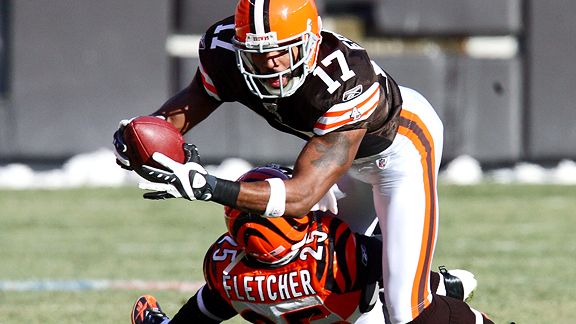 Remember the gazillion rumors that centered on the Browns trading receiver Braylon Edwards earlier this offseason? Well apparently the team is content on keeping Edwards on its roster this season, despite the fact that he's entering the final year of his contract and thus could walk at the end of the year.
Despite feverishly trying to move the inconsistent former No. 3 overall pick around draft time, Cleveland received zero offers to their liking. According to a report by the Cleveland Plain Dealer, the Browns wanted a first round pick but teams were only offering middle-round picks and lackluster veterans.
The Giants seemed to be team that made the biggest push for Edwards, but a rumored deal involving DE/LB Mathias Kiwanuka fell through and New York eventually backed off. (The then G-Men selected North Carolina wideout Hakeem Nicks with the 29th overall pick in round one.)
In the end, whom could blame teams for not wanting to part with a first round pick for Edwards? He makes letting the ball get into his pads instead of catching it with his hands his personal mission and outside of his fluke season in '07, he has done nothing to merit a team giving up a first round pick for his services.
Maybe him staying in Cleveland will work out best for all parties involved. Players in a contract year always turn it up a notch and it's not like the Browns couldn't use another playmaker after trading tight end Kellen Winslow Jr. to the Bucs. Maybe Edwards will turn in a great season, realize that he's a huge fan of the Great Lakes Science Center and the Cleveland Museum of Natural History and decide to re-up with the Browns.
Either way, the Browns aren't in a bad spot. If he's still infected with the dropsies, then they can allow him to walk via free agency at the end of the year and move forward with the development of second round picks Brian Robiskie and Mohamed Massqauoi. If Edwards does produce, they could make an effort to re-sign him after the season or even (gasp!) place the franchise tag on him if they deem him worthy enough.