What is the class of 2006 worth?
Around this time last year, I tried to estimate the kind of contracts the big name players from the class of 2004 and 2005 would sign, and here's how I fared: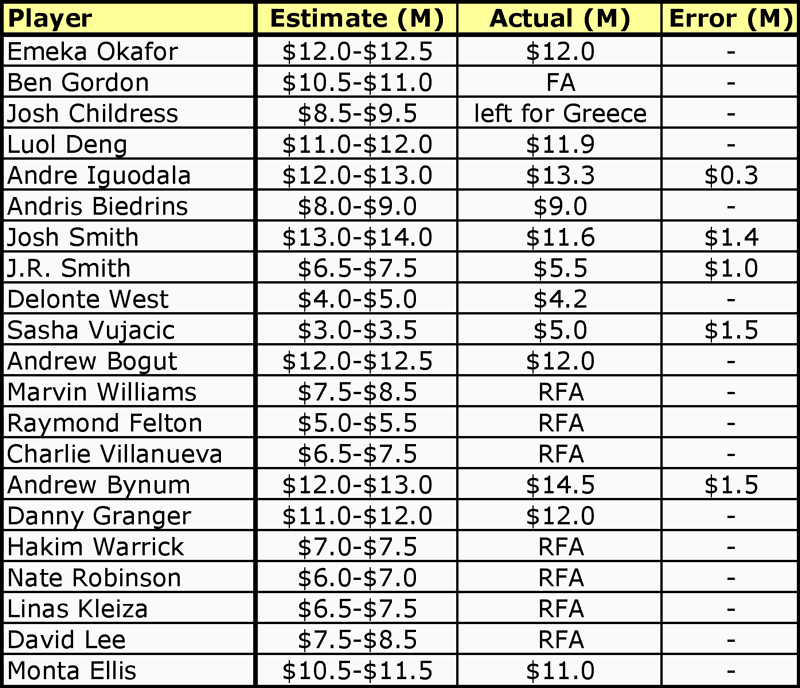 All in all, I think I did a pretty good job. Of the 12 players that signed a contract last summer, I correctly predicted the range for seven and was within $1.5 million for the other five. Granted, I underestimated what the Lakers would give Vujacic, but I find him so annoying that I have a tough time objectively determining his worth. (Though it should be noted that he didn't do anything this season to justify $5.0 million per season.)
This year, I'm going to list the top names from the class of '06 to try to determine what kind of extension they'll get if their current teams choose to lock them up this summer instead of letting them hit restricted free agency in 2010. (I'll tackle the restricted free agents of the class of '05 in my free agency preview, which will run on 6/29.)
Due to the economy and the unwillingness of most owners to spend, the summer of 2009 promises to be tougher for free agents than years past, so we may see a few players stubbornness get the best of them. One executive predicted a "nuclear winter" of sorts, so at the very least, it will be interesting.
So here are the top players from the class of '06 and my best estimate of the kind of money they'll command. I'll list their age, Player Efficiency Rating (PER), along with a few comparables.
Brandon Roy, G, Blazers
Age: 24
PER: 24.08
Comparables: Kobe Bryant ($23.0 M), Dwyane Wade ($15.8 M)
The Blazers hit a home run with Roy. In his third season, he averaged 22.6 points, 5.1 assists and 4.7 rebounds per game. Moreover, he did it efficiently, shooting a stellar 48% from the field, 38% from long range and 82% from the line. Simply stated, he is one of the league's best all-around players. I'd be shocked if the Blazers didn't offer him a max contract, though he may elect to sign a shorter three- or four-year deal (like LeBron and Wade did) to give him more flexibility in the future. (Just to throw a little salt in the wounds, the Bobcats, Bulls, Hawks and Celtics all had a shot at Roy on the night of the draft and passed.)
Value: $14.5 M – $15.5 M per year, depending on the salary cap
LaMarcus Aldridge, PF, Blazers
Age: 23
PER: 19.13
Comparables: Antawn Jamison ($13.4 M), David West ($9.0 M), Amare Stoudemire ($17.0 M)
The Blazers hit another home run with Aldridge. In his third season, the smooth shooting power forward averaged 18.1 points and 7.5 rebounds while shooting 48% from the floor. I seriously doubt Portland will be able to get him to sign a West-type deal. He's going to command more than that, though it's pretty clear that he's not a "franchise" player, so he probably won't get a max contract.
Value: $13.0 M – $14.0 M per year

Rajon Rondo, PG, Celtics
Age: 23
PER: 18.90
Comparables: Jameer Nelson ($7.7 M), Chauncey Billups ($12.0 M), Jose Calderon ($8.0 M), Devin Harris ($8.8 M)
It's going to be interesting to see if Rondo and the Celtics will be able to come to terms on an extension this summer. He's a great guard, and has improved in his biggest area of weakness (shooting), but he has a reputation for being a pain in the ass. The C's can argue that Rondo thrived playing alongside three All-Stars, while Rondo's camp can point to his playoff stats — 16.9 ppg, 9.8 apg, 9.7 rpg — as proof of what he can do as one of the main cogs in the offense. I think he'll get a little more than Harris but not as much as Billups.
Value: $9.0 M – $10.0 M per year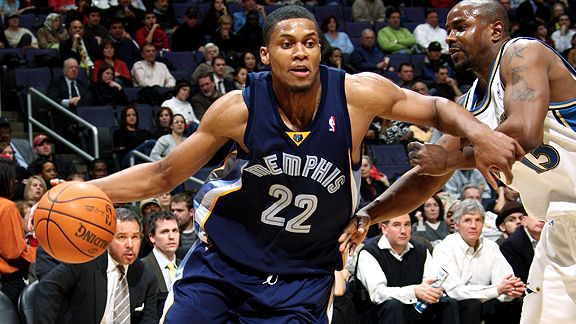 Rudy Gay, SF, Grizzlies
Age: 22
PER: 15.38
Comparables: Tayshaun Prince ($10.8 M), Richard Jefferson ($14.7 M), Corey Maggette ($9.6 M), Luol Deng ($11.9 M)
Gay's value is a little tough to pin down. He posted good numbers on a bad team, but wasn't terribly efficient in his play, as evidenced by his just-above-average PER. He can score (18.9 ppg) and his rebounding (5.5 rpg) is decent, but he's not a playmaker (1.7 apg, 0.7 A/TO ratio). I wouldn't be surprised if he and the Grizzlies find themselves miles apart when they sit down at the negotiation table. I think he's more valuable than Maggette, but doesn't have the reputation of Deng. However, both of those contracts seem quite high at this point, so I'd estimate Gay's value at or below Maggette's.
Value: $8.0 M – $9.0 M per year
Andrea Bargnani, FC, Raptors
Age: 23
PER: 14.66
Comparables: Tim Thomas ($6.5 M), Nenad Krstic ($5.4 M)
After a pretty disastrous sophomore season (39% from the field), Bargnani bounced back and posted decent offensive numbers in 2008-09. He averaged 15.4 points and shot almost 41% from long range. His rebounding (5.3) is pretty bad for a seven-footer, and has a reputation of being a mediocre to poor defender. Both areas should improve as he gets stronger, but he's a long way from becoming the next Dirk Nowitzki. Like Thomas, I think the Raptors will wait to see how Bargnani develops in his fourth season before committing to a long term deal. Even then, he'll probably just sign a three-year deal so that he can sign another contract at 27, when he (hopefully) reaches his potential.
Value: $7.0 M – $8.0 M per season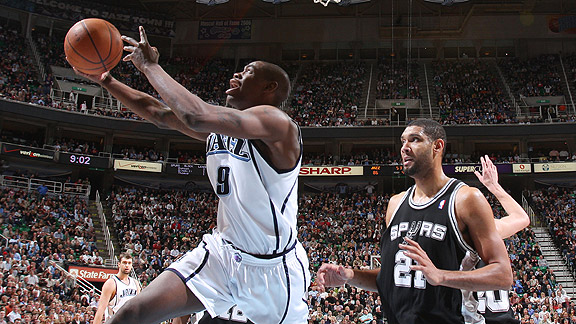 Ronnie Brewer, SG, Jazz
Age: 24
PER: 16.19
Comparables: Jamal Crawford ($9.8 M), Delonte West ($4.4 M), Tayshaun Prince ($10.8 M), Shane Battier ($7.1 M)
Brewer is known more for his defense, but he's a capable scorer (13.7 ppg, 51% FG%), who gets his points on layups and putbacks. His three point shot is still shaky (26%), but it's improving, and he only takes about one per game. He's an athlete with a 6'11" wingspan, and the Jazz need his defense if they hope to get past Kobe and Co. in the postseason anytime soon. He's not the stopper that Prince or Battier is, but he's better offensively than Battier, at least from a scoring standpoint.
Value: $6.0 M – $7.0 M per year
Tyrus Thomas, F, Bulls
Age: 22
PER: 15.95
Comparables: Al Harrington ($10.0 M), Jason Maxiell ($5.0 M)
Thomas is an athletic freak who has improved his skill set in his first three seasons. He now has a pretty dependable shot out to about 18-feet, and he's a terrific shot blocker on the other end of the court. His third-year averages of 10.8 points and 6.5 rebounds in 27.5 minutes are pretty solid, but his field goal percentage (45%) is low for a forward. This is mostly due to a lack of finishing ability, which is surprising considering his overall athleticism. I think the Bulls are going to want to see how he develops for another season before signing him to an extension, as I'm guessing that the franchise and his camp are miles apart on his true value.
Value: $6.0 M – $7.0 M per year
Follow the Scores Report editors on Twitter @TheScoresReport. You can also follow TSR editor Gerardo Orlando @clevelandteams and @bullzeyedotcom, and you can follow TSR editor Anthony Stalter @AnthonyStalter.
Picture of the Day
Enjoy a daily photo from Bullz-Eye.com of one of their beautiful models.
Improve your game today!
You've got to brush up on your game to get the girl! Find your hookups with this online dating guide.
Sexy Girls and Cars
Check out this slideshow of hot babes and cool cars.
Posted in: NBA, NBA Draft, Rumors & Gossip
Tags: 2009 NBA free agency, Andrea Bargnani, Andrea Bargnani extension, Brandon Roy, Brandon Roy contract, Brandon Roy extension, John Paulsen, LaMarcus Aldridge, LaMarcus Aldridge contract, LaMarcus Aldridge extension, NBA Class of '06, NBA Class of 2006, NBA free agency, Rajon Rondo, Rajon Rondo contract, Rajon Rondo extension, Ronnie Brewer, Ronnie Brewer contract, Ronnie Brewer extension, Rudy Gay, Rudy Gay contract, Rudy Gay extension, summer of 2009, Tyrus Thomas, Tyrus Thomas contract, Tyrus Thomas extension