Does Ben Gordon have a promise from the Pistons?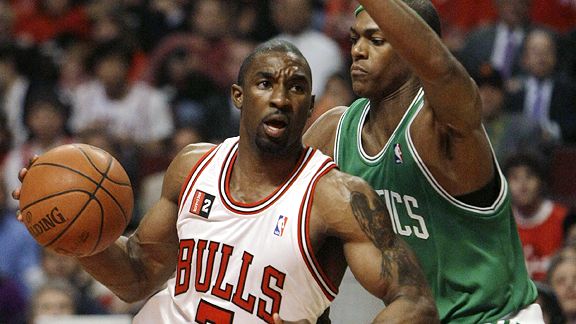 The answer is yes, at least according to Sam Smith.
But I also heard that Gordon's agent allegedly has been saying he has an $11 million promise from the Pistons.
First off, when a writer says that he "heard" that someone has "allegedly" been saying something, beware. But let's assume for a moment that the report is accurate.
On the surface, the Pistons' interest doesn't make a whole lot of sense. Why replace Rip Hamilton with Ben Gordon? Isn't Hamilton better?
Gordon does have one thing on Rip — youth. He is 26, five years Hamilton's junior. If Joe Dumars is planning to make a splash in free agency next summer, then he's planning for a franchise resurgence in 2011, and Hamilton would be 33 at that point. If he signs Gordon, Dumars is just trying to make the Pistons younger.
Hamilton still has a lot of value right now. He's a sharpshooter and a pretty good defender, and there are more than a few teams that could use him. This is pure speculation, but how about a Hamilton for Boozer swap with Utah? The Jazz already have Ronnie Brewer — would they even go for it? The Spurs, Rockets, Cavs, Wizards and Hornets might be interested as well (though New Orleans is trying to trim salary, not add it.)
Hamilton's contract runs through the 2012-13 season but the final year isn't fully guaranteed.
I prefer Hamilton right now. Gordon can make some impossible shots, but he sometimes shoots the Bulls out of games. He averaged 24.3 points against the Celtics in this year's playoffs, but he only shot 39% from the field (and 29% over the last three games). He did shoot better than 45% from the field during the regular season, which is solid for a shooting guard. I think $11 million per season is too much to pay in this market; given his faults (shot selection, suspect defense), I'd estimate Gordon's value to be around $8 million per season.