NBA Draft & Free Agency Rumors: Monta unhappy, Cavs looking at Jamison and more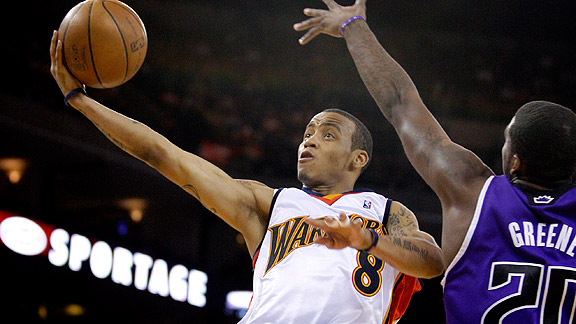 With the Finals behind us and the draft and free agency looming, the rumors are flying fast and furious. Here's a rundown of the latest scuttlebutt…
Things are rumored to be getting worse in Golden State.
The talk is that Monta Ellis is unhappy with the direction the organization is heading in, and still holds a bit of grief over the way they held his contract status in limbo for months following his moped injury. For weeks we've heard that Ellis is no longer interested in playing for Golden State, and apparently it had reached a point where it was "close to popping off" in the words of one NBA executive—meaning going to the media and publicly demanding a trade.
Let me get this straight — the franchise gives Ellis $66 million over six years and he rewards them by tearing up his ankle in a moped accident, missing 57 games this season. I'm sure he wasn't happy about the 30-game suspension he served with no pay, but he wasn't going to play in those games anyway. Shouldn't he be punished for being boneheaded enough to tool around on a moped?
It sounds like the team has promised Ellis that he'll be running the point next season and may have promised that they wouldn't take a point guard at #7, prompting several prospects — Stephen Curry, Jrue Holiday, Tyreke Evans and Ricky Rubio — to refuse to work out for Golden State. Suddenly, Jordan Hill looks like a stronger possibility if he's still on the board when the Warriors pick.

In addition to the Shaq rumors, the Cavs might be thinking about adding Antawn Jamison.
The deal would essentially be a cost-cutting move for the Wizards, sending Antawn Jamison and filler (Mike James) to the Cavs for Ben Wallace and Sasha Pavlovic. Wallace seems likely to retire, and Pavlovic is on a non-guaranteed contract for next season. It's not clear whether the Wizards would need to surrender the #5 pick. Jamison is attractive to the Cavs since he's exactly the type of combo forward they were missing to match up with Orlando's Rashard Lewis and Hedo Turkoglu.
Jamison, 33, is due more than $40 million over the next three years, so if the Cavs were to take on his contract, it would eat up most of the cap space they're projected to have next summer. They're on the hook for $20.2 million heading into 2010 (not counting the final year of LeBron's contract), so if you add in Jamison's $13.4 million, that puts the Cavs' projected payroll at $33.6 million, leaving roughly $25 million to sign LeBron and another free agent or two. That's not enough money to lock up a big name like Chris Bosh or Amare Stoudemire, so if the Cavs were to acquire Jamison, they'd have to move Mo Williams or Daniel Gibson to clear enough cap space to add a player like that.
Jamison would be a nice matchup for Lewis and Turkoglu, but at 33 years-old, I don't know if it's a wise investment for the Cavs.

No GM in the NBA is apparently more active right now than Minnesota's David Kahn, as he's apparently set on "making a big splash in his first draft" according to one NBA executive, and is "talking to everyone" at the moment. One rumor that is making the rounds has Minnesota sending Memphis Kevin Love in exchange for the #2 pick (and filler). Minnesota would then draft Ricky Rubio, which could help them significantly with their ticket sales, and still have the #6 pick at their disposal, which they could use to take someone like Jordan Hill.
The move does make sense for the Grizzlies, as they would get a semi-proven power forward in Love, who averaged 11.1 points and 9.1 rebounds in around 25 minutes of playing time in his rookie season. His PER (18.39) is 13th amongst qualified power forwards. Love would seemingly be a nice fit with the core of O.J. Mayo, Rudy Gay, Marc Gasol and Mike Conley.
For the T-Wolves, it's pretty risky to give up on Love. If they're trying to upgrade at point guard, they can do so at #6 without trading Love. The best thing about this draft is the depth at point guard, but if they're desperate to land Rubio, they're probably not going to get him at #6. This is essentially a Love-for-Rubio swap, and Rubio is a big unknown right now. However, this is Kahn's first draft, so he holds no allegiance to Love, so the rumors may very well be true.

The Lakers may be able to keep both Trevor Ariza and Lamar Odom.
The recent sentiment is that there might be room for both Ariza and Odom. Lakers Coach Phil Jackson even said as much last week, saying it wasn't "written in stone" that the team would have to make an either/or decision with the two players.

The great unknown, however, is the spending culture of NBA owners this summer in a bedraggled economy. Will Odom and Ariza find fewer offers than they would have entertained in past free-agent markets? If so, the Lakers might be able to retain both.

Another important economic figure for the Lakers will be the luxury-tax threshold for the 2009-10 season, which will be announced by the NBA in July. The team is already expected to pay between $5 million and $7 million in luxury taxes this season, a number that would jump significantly next season if Odom and Ariza are re-signed. Buss will have to dip much more deeply into his own pockets to re-sign the two free-agent forwards.
Winning simply makes everything easier. Everyone is happy in Los Angeles, so Jerry Buss is more likely to pony up to keep the team together and the players are more likely to give a hometown discount. Odom has said in the past that he can't imagine not living at the beach, but it's unclear just how much less he'd be willing to take to stay in Los Angeles. There aren't that many teams in a position to offer him a fat contract, so I could see him signing for $7-$8 million per season.
Ariza is a bigger priority from a long term perspective. He's just 23 and has improved by leaps and bounds since he has joined the Lakers. While he shot just 32% from long range on the season, he hit about 35% of his attempts over the last half of the season and an astounding 48% in the playoffs. And don't underestimate the value of his defense. He's able to cover the opposition's best wing, which allows Kobe to float and to get a breather if necessary.
The Lakers are already well over the luxury tax threshold, so either contract is going to cost Jerry Buss twice as much as its face value. If Kobe really wants to keep this team together and have a shot to win another title or two, he could take a pay cut to convince Buss to pony up for Ariza and Odom, but don't hold your breath.

The Knicks are apparently more interested in Jordan Hill than they are in Stephen Curry.
The Post has learned Knicks president Donnie Walsh has secretly coveted Hill, the 6-foot-10 big man whom they would take in a heartbeat over Curry. Walsh told confidants that after the draft order was established he thought a better chance existed of Hill slipping to them. That's because some teams picking before the Knicks weren't in the market for bigs.

It has been stated the Knicks' priority has been a point guard, but Walsh says that perception is there only because a slew of point guards are considered viable in that range.
For a few days there it seemed like Hill might slip to the Bucks at #10, but a couple of teams picking just before them — the Warriors at #7 and the Knicks at #8 — are rumored to be interested. He is raw, but has a lot of upside and his measurables were great.
Posted in: NBA, NBA Draft, News, Rumors & Gossip
Tags: 2009 NBA free agency, 2009 NBA free agents, Antawn Jamison Cavs, Antawn Jamison rumors, Cleveland Cavaliers, Draft Rumors, free agency rumors, Jordan Hill, Jordan Hill draft, Jordan Hill rumors, Kevin Love, Lamar Odom rumors, Monta Ellis rumors, NBA Draft rumors, NBA free agency rumors, NBA rumors, Ricky Rubio draft, Ricky Rubio rumors, Shaq rumors, Shaq to Cleveland, Summer of 2010, Trevor Ariza rumors