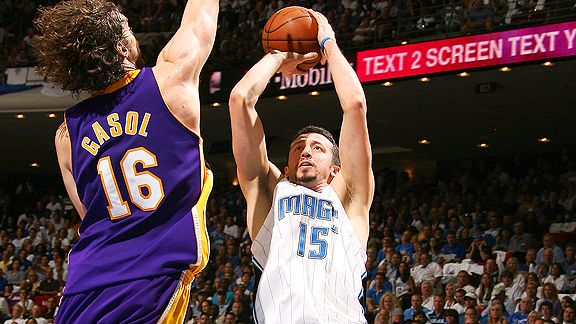 It looks like Orlando Magic are open to the idea of entering luxury tax territory (for the first time) if it means they can keep the Orlando core together by re-signing Hedo Turkoglu.
Magic President and chief executive officer Bob Vander Weide told FanHouse that ownership likely would approve paying the luxury tax for the first time if it means keeping the nucleus of this team together.

"We've always avoided the tax, but winning has a crazy effect on people," Vander Weide said. "The [DeVos] family (which owns the team) is having fun right now. I don't think anyone has a willingness to stay in tax for 10 years, but to go in for a few years to ride this out, I don't think that's threatening to our family short term."

Re-signing Turkoglu, who is expected to exercise his option to become a free agent, likely would push them into the luxury tax. Vander Weide also said the Magic will be trying this summer also to obtain a true power forward to help Dwight Howard with the rebounding load.

Turkoglu, who would make $7.1 million next season if he remained in his current contract, is expected to command a long-term deal in free agency worth an estimated $10-$12 million annually.

Other than reaching the NBA Finals, the biggest reason the Magic have dropped their reluctance to pay the luxury tax is that they will be moving into a new arena at the start of the 2010-11 season, which Vander Weide believes will translate into an additional $20 million more in revenue each year.
Despite overpaying for Rashard Lewis, the Magic are actually in pretty good shape payroll-wise. Entering the 2010 season, they only have five players under contract — Lewis, Howard, Jameer Nelson, Mickael Pietrus and Courtney Lee. While Lewis salary ($18.0 million) is pretty ridiculous, the salaries of Howard ($15.2 million), Nelson ($7.7 million) and Pietrus ($5.3 million) are all reasonable given what they bring to the table. Howard is a superstar making superstar money, the All-Star Nelson is a bargain at under $8 million per sesason and Pietrus is proving to be a very good defender and underrated scorer on the wing.
Turkoglu has arguably been the Magic's most consistent player in these playoffs and deserves a raise. The Magic need to be careful, however, because he's already 30, so he may only be able to play at this level for two or three more seasons (if that). They don't want to get locked into a five- or six-year deal that they'll be regretting in a few seasons. $10-$12 million per season sounds fair, but the Magic would be wise to see what the market will bear.
There are five teams that currently project to have the cap space to make him an offer of more than $10 million per season: Detroit, Memphis, Oklahoma City, Sacramento and Toronto. We can probably cross off Memphis, Sacramento and OKC, as they are not likely to add a pricey 30-year-old as they continue to rebuild. Besides, the Thunder already have a pretty good small forward in Kevin Durant. Likewise, the Pistons have Tayshaun Prince, so they probably wouldn't be interested. That leaves Toronto. The Raptors might want to make a big splash in free agency in the hopes that they can surround Chris Bosh with enough talent to convince him to stay next summer. Toronto just traded away Jason Kapono, which freed up another $1.2 million in cap space. That gives the Raptors roughly $12 million to play with, so they could make life difficult on the Magic if they target Turkoglu in free agency.
However, if Toronto doesn't express any interest, the Magic would be wise to try to get Turkoglu to sign a three- or four-year deal averaging around $8-$9 million per season. It is doubtful that any other teams with cap space are going to come that strong.