Blogging the Bloggers: Raul Ibanez, Bobby Valentine & David Letterman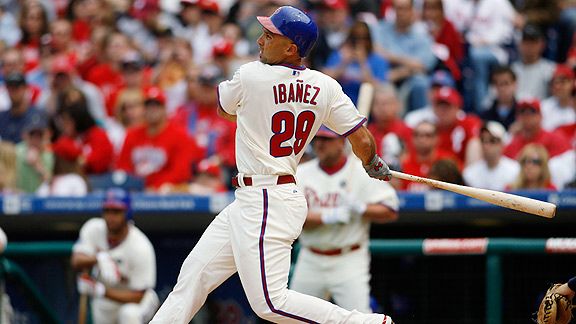 – DEADSPIN discusses the unfortunate ambushing of blogger Jerod Morris, who is catching massive criticism for his piece about Phillies' outfielder Raul Ibanez-steroids piece. For TSR's take on the situation, click here.
– UNCOACHED groups together a photo gallery of the most noteworthy Yahoo! baseball profile pictures.
– SPORTSbyBROOKS says that Japanese fans really want manager Bobby Valentine back.
– As the Penguins get ready to take on the Red Wings in Game 7 of the Stanley Cup Finals tonight, THE LOVE OF SPORTS ranks the top 10 "road warriors" in Game 7s.
– TONY BLOGS.NET has video of David Letterman sending Steve Nash to the NBA Finals.
Posted in: MLB, NBA, NBA Finals, NFL, NHL
Tags: Bobby Valentine, Bobby Valentine Japan, Detroit Red Wings, Funny MLB Profile Pictures, NBA Finals, Pittsburgh Penguins, Raul Ibanez, Raul Ibanez blogger, Raul Ibanez blogger comments, Raul Ibanez blogger steroids, Raul Ibanez Phillies, Steve Nash