Toronto sends Kapono to Philly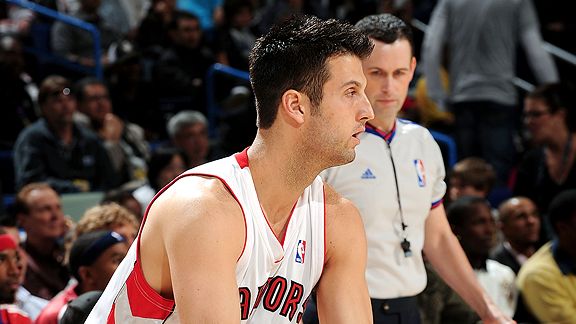 Wake up! There's been a trade in the NBA!
The Toronto Raptors and Philadelphia 76ers have completed the first trade of what is being widely forecast as an active month for NBA transactions by agreeing to swap sharpshooting guard Jason Kapono for rebounding specialist Reggie Evans.

The Sixers targeted Kapono — two-time winner of the NBA's Long Distance Shootout at All-Star Weekend and a career 45.4 percent marksman from 3-point range — to address their well-chronicled lack of outside shooting since dealing Kyle Korver to Utah in December 2007.

The Raptors, meanwhile, potentially address two needs with the trade, adding Evans' physicality to a roster short on that quality last season and creating a bit of extra salary-cap space for a crucial summer before Chris Bosh becomes an unrestricted free agent in July 2010.
Toronto will save about $1.2 million this season and $1.6 million next season due to the difference in the two players' salaries. This will give the Raptors a little extra cap space to up the ante for a free agent or two over the next two summers.
Kapono is a career 45% three-point shooter and will bring a dimension to Philadelphia that was seriously lacking last season. Other than Donyell Marshall (who only played 7.6 minutes per game), the Sixers didn't have a player shoot better than 35% from long range.