Is Stephen Strasburg the next great thing or the next Mark Prior?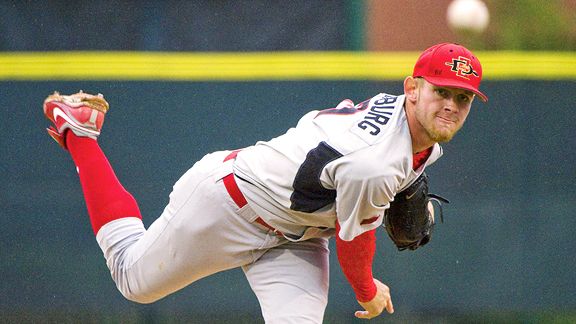 After the Washington Nationals took San Diego State phenom Stephen Strasburg with the first overall pick of the 2009 MLB Draft, the first question that came to everyone's mind was – will he sign?
Strasburg's agent is Scott Boras, who is someone that would rather sell his mother on eBay than not overcharge a team for one of his client's services. The pre-draft buzz was that Washington is willing to pay whatever it takes to sign Strasburg, but we'll see what happens when the two sides actually come to the negotiating table.
The second question on everyone's mind is – how good is this kid?
As a sophomore at SDS, he went 8-3 with a 1.57 ERA and struck out 133 batters in 97.5 innings of work. Four of his 13 starts that year were complete games and two were shutouts. Through May this season, he posted a 13-1 record with a 1.32 ERA and 195 strikeouts in 109 innings pitched.
The scouting report on Strasburg is eye-popping; his fastball tops out at 103 mph, his curve has excellent movement and his slider can clock in the 90s. If the Nationals absolutely needed him to pitch this season (which they don't – there's no reason to rush him), some believe that he's even major-league ready now.
But there's no such thing as a "can't miss prospect" and Strasburg isn't immune to criticism. Some believe he could be the next Mark Prior in that he's injury prone because he puts too much pressure on his wrist and his elbow comes up too high in his release (which usually signals arm problems down the road). Throw in the pressure that comes along with being the No. 1 overall pick (not too mention a No. 1 pick who will eventually sign for $50-plus million) and all of a sudden you realize that transportation to bustville runs 24 hours a day.
Personally, I hope Strasburg lives up to the hype. The Nationals need him to be great and so does baseball, which is slowly starting to clean up its image. There has been a major buzz surrounding him and fans can't wait to see him go toe to toe with major league hitters. Here's hoping he has a bright and successful future ahead of him.
Posted in: MLB
Tags: 2009 MLB Draft, Mark Prior, Nationals rumors, Stephen Strasburg, Stephen Strasburg Mark Prior, Stephen Strasburg MLB draft, Stephen Strasburg Nationals, Stephen Strasburg No. 1 overall pick, Stephen Strasburg No. 1 pick, Stephen Strasburg rumors, Stephen Strasburg scouting report, Washington Nationals, Who did the Nationals take with the No. 1 overall pick, Who was drafted first in the MLB draft?