NBA Free Agency Rumors: 'Sheed, Boozer, Sessions and more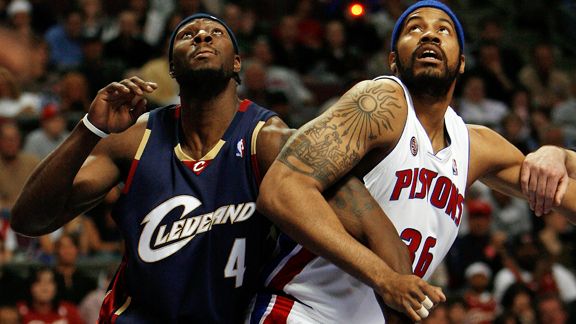 – SLAM ONLINE has sources that are saying that the Cavs and Rasheed Wallace are working on a two-year deal worth $20 million. The interest was prompted by the fact that Dwight Howard pretty much had his way in the paint against the Cavs in the Eastern Conference Finals. Wallace will be 35 this September, and has averaged about 12 points and seven boards over the last three seasons. He has the ability to spread the court with his shooting ability and has a reputation for doing a good job defensively on Howard, though the Orlando big man averaged 22 points and 15 rebounds in three games against the Pistons this season. If the Cavs do indeed sign Wallace that kind of a contract, it would trim the team's projected 2010 cap space from $38 million to $28 million. Also, since the Cavs are over the cap, to make this deal happen, they would have to swing a sign-and-trade with Detroit (for Anderson Varejao?). If the deal falls through, SLAM says that the Cavs may move on to Zach Randolph. Wait…whaaa? 6/11 Update: The Cleveland Plain Dealer says that the Wallace rumors are untrue (and would be illegal if they were true).
– DESERET NEWS says that Carlos Boozer isn't sure that he's going to opt-out of the final year of his contract (that will pay him $12.7 million) by the end of the month. This contradicts everything he's been saying up until this point. Maybe Boozer isn't finding that the market for his services is as strong as he thought it was. It might behoove him to play out his contract, stay healthy (this is key) and join the free agent class of 2010. But by going that route, he will lose the security of a long-term deal. Devin Harris says that Boozer is welcome in New Jersey.
– The RENO GAZETTE-JOURNAL reports that Ramon Sessions' first choice is to stay with the Bucks, but he understands that the club is up against the luxury tax so things are a little dicey. I think the Bucks will wait to see what kind of offer sheet he gets from another team and then decide whether or not they'll match, though it would be wise to start negotiations now.
– The NEW YORK POST is reporting that the Knicks are eyeing Magic center Marcin Gortat for their mid-level exception. The Knicks are on the hook for about $24 million in payroll heading into the 2010-11 season, which means that they currently project to have roughly $34 million in cap space. If the Knicks use their mid-level this season, it will trim that space by about $6 million.
– Contrary to earlier reports, if his agent has any say, it's going to be tough for Ben Wallace to retire, according to the NEWS-HERALD. It would be the best thing for the Cavs, but Arn Tellem isn't going to let him walk away from $14 million.
Follow the Scores Report editors on Twitter @TheScoresReport. You can also follow TSR editor Gerardo Orlando @clevelandteams and @bullzeyedotcom, and you can follow TSR editor Anthony Stalter @AnthonyStalter.
Picture of the Day
Enjoy a daily photo from Bullz-Eye.com of one of their beautiful models.
Improve your game today!
You've got to brush up on your game to get the girl! Find your hookups with this online dating guide.
Sexy Girls and Cars
Check out this slideshow of hot babes and cool cars.
Posted in: NBA, News, Rumors & Gossip
Tags: 2009 NBA free agency, 2009 NBA free agents, Ben Wallace, Ben Wallace retire, Ben Wallace retirement, Carlos Boozer, Carlos Boozer free agent, free agency rumors, Marcin Gortat, Marcin Gortat free agent, Marcin Gortat Knicks, NBA free agency, NBA free agency rumors, NBA rumors, Ramon Sessions, Ramon Sessions free agent, Rasheed Wallace, Rasheed Wallace Cavs, Rasheed Wallace free agent, Rasheed Wallace trade