Finals commentary, prior to Game 3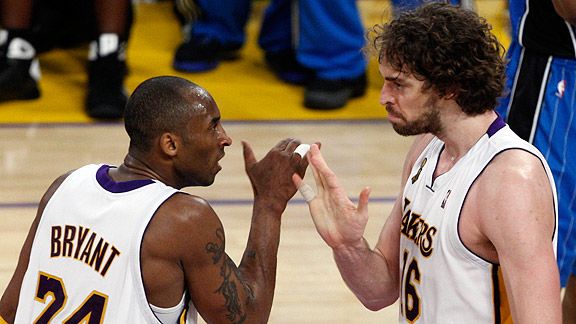 Ramona Shelburne of the LA Daily News: The plays are only noticeable in hindsight. On replays. In memory. And sometimes not even then. Little plays that could be pivotal if they don't go the right way. Some call them "veteran plays." Others use terms like "heady" and "mature" or "cerebral." It sounds vague and arbitrary, but tell that to the team that doesn't know how to make these kinds of plays. It's even harder to explain how some players learn to make them and others don't. Whether it's instinct or experience, natural poise or acquired savvy. Only one thing is certain: Championship teams make them, everyone else watches them later in the film room. And right now, the Lakers are the team in these NBA Finals keeping the opposing video technician busy.
Jeff Briggs of the RCS Blog: Tonight, Game 6 of the Stanley Cup finals is on NBC at 8pm. A mere hour later, Game 3 of the NBA Finals airs on ABC. While there are clearly two separate sets of fans that follow the sports, the two leagues are still cannibalizing each other's audience. Sports fans like to watch championship events. People shouldn't be forced to choose between either the Stanley Cup or NBA finals. They should be able to watch both, hockey one day and basketball the next.
Brian Schmitz of the Orlando Sentinel: The Lakers haven't allowed the Magic to be the Magic much at all in taking a 2-0 lead. They've had them on the run since this whole thing started, creating chaos. The Magic have been scrambling to find other ways to play, and with other players playing different positions, causing realignment of X's as well as O's. Hard to play the NBA Finals on the fly, but it's reality. Coach Stan Van Gundy pulled out everything imaginable from his bag of tricks on Sunday, and somehow the Magic almost turned the Finals on its ear before losing in overtime.
George Diaz of the Orlando Sentinel: The Magic have scored just 171 points in consecutive losses. That 85.5 average has something to do with the Lakers' defense, obviously. But it also has much to do with the inability of the Magic to get into any groove when the ball is bouncing in their hands. We'll get to the point: Jameer Nelson coming back after a four-month layoff has mucked things up for the Magic in the NBA Finals. This is the dark side of the silver lining Magic fans saw in Nelson's return after that prolonged absence because of his shoulder injury. Nelson's unexpected availability has messed with the Magic mojo.