Brandon Jennings, the wild card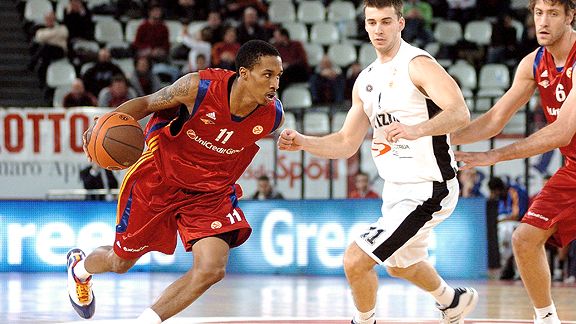 Of all the top prospects in this year's draft, perhaps the least is known about Brandon Jennings, who skipped an opportunity to play a year at Arizona to join a team in Italy. He had an up-and-down season, his minutes were inconsistent, but by most accounts he did improve. Chad Ford wrote a nice piece for ESPN Insider — it's long, but this struck me as particularly interesting…
Nenad Trajkovic, was in the gym scouting prospects.

Trajkovic is sort of a legend in Europe when it comes to developing young players. He spent years in Serbia preparing guys all the way back to the Vlade Divac years. He's been hired by teams around the world to work with some of the top young talent in the world. He was hired by Jennings' team midseason as a lead assistant and spent every day with Jennings working on his game.

Jennings would practice up to four hours a day, sometimes longer with Trajkovic. A few hours were spent each day learning the offensive and defensive schemes. The rest was focused on fundamental development — ballhandling, shooting, basketball philosophy.

"The coach didn't trust him. This team was a veteran team. Winning was important and Brandon didn't know how to help his team win. We worked every day on his decision-making. We worked on the pick-and-roll. We taught him defense. The plan was to bring him along slowly and then, by the middle [of the season] he could be more trusted."

Trajkovic said that Jennings was a hard worker. He said Jennings was a quick study and that the improvement he made in the first few months was dramatic, albeit mostly in practice. However, disaster struck for Jennings when his head coach was fired and replaced with a veteran coach who felt a lot of pressure to win immediately.

"The coach didn't want to take the risk with Brandon," Trajkovic said. "He knew Brandon was improving but he felt more comfortable with veterans. You have to understand. Brandon was leaving, so why risk something for a player who will leave your team anyway?"

Trajkovic said Jennings kept working hard. They often would simulate game conditions in practice and Jennings would dominate, especially later in the season.

"He's a competitor. He was frustrated. He had worked every single day. There were no days off. He hadn't been home. He would have to wait more than a week for the camp. I think he felt it was enough. I agree with this. Brandon is so much better than the talent here [Trajkovic pointing to the players in the Eurocamp]. He is far and away in front of them in skills and athletic ability. He needs to be competing against your best."
The entire piece is a good read. Ford quotes one GM who wonders why he'd draft him if Jennings can't even get on the court in Italy. Trajkovic's explanation clears things up. They operate differently in Europe and the new coach didn't feel comfortable playing Jennings.
Ford quotes one scout who has seen Jennings the most, and is in love with him. He says that he's a top three talent in this draft. Scouts who haven't seen the guard as much aren't as smitten, saying that he has more Allen Iverson in him than Chris Paul. It's clear that Jennings needs to focus more on the five-on-five aspect of the game than individual play, but from what Trajkovic said, Jennings has made great strides this year.
It's going to be interesting to see where goes in the draft. He's going to work out for teams in the mid-lottery, and if he doesn't get major interest there, he'll schedule workouts with teams in the late lottery. Point guard is probably the strongest position in this draft, so there's a chance he can slip, but I think he'll ultimately go in the top 10.