What has happened to Fausto Carmona?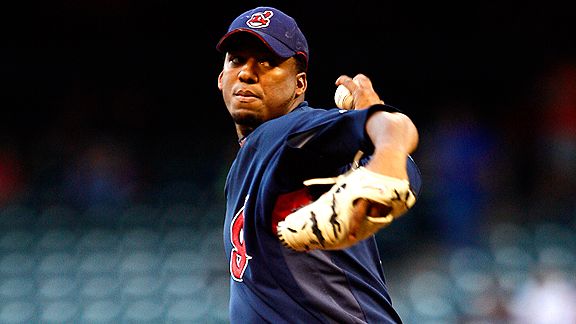 Believe it or not, there was a time (three years ago for those keeping score at home) when Indians' starter Fausto Carmona was considered to be one of the better young arms in baseball. He was supposed to make Tribe fans forget about CC Sabathia and if he couldn't do that, at least be a nice complement to Cliff Lee in Cleveland's starting rotation.
But something happened from the time he posted a 19-8 record in 2007 to where we are now present day, where he's currently fighting to remain in the rotation.
According to a report by the Cleveland Plain Dealer, Carmona could be facing a demotion to Triple-A after allowing seven runs in just two innings in his latest start on Thursday night. In 12 starts this season, Carmona is 2-6 with a whopping 7.42 ERA and 1.81 WHIP. He's struck out just 36 batters and has walked 41.
The Indians don't have the healthiest starting rotation right now, but sending Carmona down to Triple-A might not only benefit him, but the team as well. The fact of the matter is that he's a complete mess and when he pitches, there's a huge possibility that Cleveland will be chalking up an L in the standings before the lights shut off at the ball yard.
And really, sending him down to Triple-A might not even be good enough. The Tigers sent Dontrelle Willis down to A-ball when he struggled earlier this year with a variety of issues (both physical and mental), and Carmona could benefit from the same treatment. His control is the biggest problem mechanically, but his confidence appears shot to hell, too. Baseball is as much of a mental game as it is physical and Carmona's problems seem to lie between the ears just as much as they do with his stride, his arm release and his command.
By no means is Carmona a lost cause. He still has the stuff that made him a 19-game winner in 2007, but his control issues are mind-boggling. The Tribe should send him down, although not just to Triple-A, but to A-ball. They should allow him to work his way back up through the minors, gaining confidence and control along the way until he's ready to face major league hitters again. Think of the situation as not only hitting the reset button your PS3, but actually pulling the plug completely out of the wall and taking a deep breath before plugging it back in.
In the meantime, the Indians could call up pitching prospect Hector Rondon. Is he ready? Probably not, but Cleveland is running out of choices right now and Rondon gives the Tribe just as much of a chance to win as Carmona does. (If not better.)