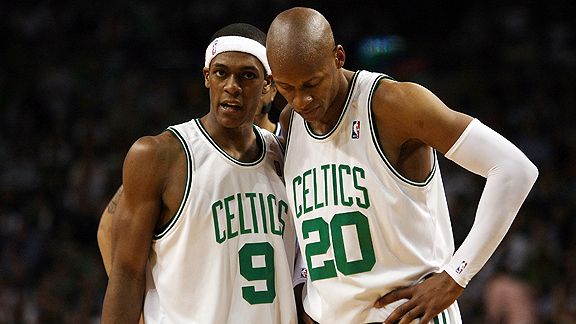 6/23 Update: The C's have reportedly offered Rajon Rondo and Ray Allen to the Detroit Pistons.
Yes, according to HoopsWorld.
Off the record, we have several sources telling us that Ray Allen is, indeed, on the block. It's easy to make the leap, as the Celtics have managed to develop some nice young talent around their Big Three while also managing to win a championship. They might have even repeated had Kevin Garnett been healthy. It's not a stretch to say the Celtics would part with Allen, who has an ending contract next season, if they could add another top young player to the mix.

On the record we have an added wrinkle – one that we thought to be highly unlikely until we found it reported with a quote attributed to Celtics GM Danny Ainge. It seems the Celtics are willing to package Rajon Rondo with Allen to make the right deal happen

"He's stubborn," Ainge told ESPN's Jackie MacMullen. "He doesn't always take direction well. He's very bright and knows what he needs to do to be successful. But sometimes he doesn't understand what the team needs to be successful."

Doc Rivers expressed similar sentiments, which he directed at Rondo himself earlier this season.

"Do you know your teammates hate playing with you? … The point guard has to be the guy that brings energy to the team. You can't be the guy that sucks it away. Your moodiness is affecting us. Change it."

At the same time, Rondo has guys like Paul Pierce and Kendrick Perkins saying he's their leader and they believe in him. And while there is a great deal to be said for patience and seeing if Rondo will improve as much next season as he did in 2008-09, there is certainly a lot of negativity coming from the decision-makers – enough to fuel trade speculation.
Wow. That's the first I've heard about any problems with Rondo's attitude.
It's shocking to me that Danny Ainge is thinking about breaking up the core that won a championship less than a year ago. It's not like they had the same group this season and failed to advance. They missed the Conference Finals (and probably the Finals) because Kevin Garnett missed the playoffs with a knee injury. You'd think that Ainge would be focused on getting everyone healthy enough to make another run, not thinking about trading away two of his starters.