Brees says Thomas is Saints' No. 1 back now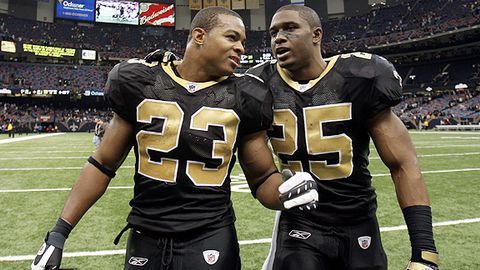 In a recent radio interview in New Orleans, Saints quarterback Drew Brees admitted that Pierre Thomas is considered the team's number one back now. Brees also said that he felt Reggie Bush will be able to "step in and do a great job", but he believes that Thomas is the total package.
For those of you that haven't hopped on the Thomas bandwagon yet, there's plenty of room. Despite Sean Payton's foolish attempt to try and add another back to the mix this offseason, the Saints (not just Brees) feel as though Thomas can be their workhorse and the backbone of their running game next season.
According to a study done by STATS inc., Thomas led the league last year in fewest rushing attempts for negative yardage. Some believe that he struggles in short yardage situations and that's why the team considered drafting a big back like Chris "Beanie" Wells in April. But those of you that paid close attention to Thomas last year saw a back that can deliver in any situation.
So what happens to Bush? Well considering most NFL teams have adopted the two-back system, nothing. In fact, if Thomas takes the brunt of the work next year, Bush could benefit by seeing less carries and therefore staying healthy (something he's failed to do so far in his career) throughout the course of the season.
It's obviously too early to make any predictions, but the Saints should be right back in contention next year for a playoff berth. Their offense will be potent, although how well the defense plays will once again be the biggest factor in how much success they have.
But one thing is for sure – Thomas is going to play a big role in the Saints' offense in '09.