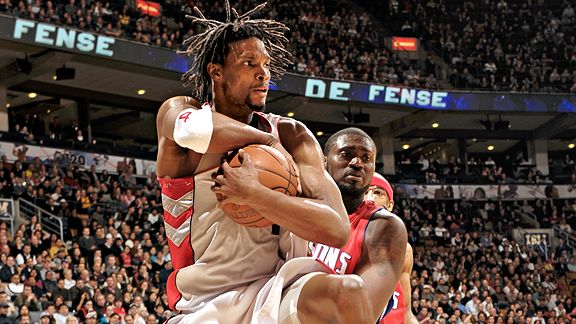 Chris Bosh has said in no uncertain terms that he expects that the next contract he signs will be the maximum allowed under the current Collective Bargaining Agreement.
In other words, it's a max contract or no deal as far as Bosh is concerned.

Asked yesterday if he felt he was worth such a contract, Bosh didn't hesitate. "Without a doubt. I really don't see any negotiation about that part."

But for anyone wanting to know the direction he might be leaning when it comes to his future, Bosh said again that he has not made up his mind.

As for taking less than a max deal to allow Colangelo to beef up the rest of the lineup, Bosh doesn't sound like a guy who would consider that.

"An old school guy told me: 'Take advantage. You can't play this game forever. Make sure you maximize your potential,' " Bosh said.
I think that there are probably 10 to 15 players worth a max deal. The no-brainers are LeBron, Kobe, Dwyane Wade, Dwight Howard and Chris Paul. Deron Williams, Kevin Durant, Brandon Roy and Derrick Rose are the up-and-comers. Then there are Tim Duncan, Kevin Garnett and Dirk Nowitzki who are all over 30. The next tier of guys — Paul Pierce, Joe Johnson, Chris Bosh, Amare Stoudemire, Tony Parker, Carmelo Anthony, Carlos Boozer and Chauncey Billups — are all great, but are they really worth max money?
The problem I have with Bosh is that Toronto had a pretty good roster this season and they completely missed the playoffs. He is playing with one of the best point guards in the league (Jose Calderon) and he had another former All-Star on the roster as well (Jermaine O'Neal and Shawn Marion). If he's really a max contract guy, shouldn't he be able to carry his team to the playoffs? Obviously, a superstar needs a good supporting cast, but the Raptors had fewer wins than New Jersey, Milwaukee (who played without Michael Redd and Andrew Bogut for much of the season), Charlotte, Indiana, Detroit and Philadelphia. One could argue that Toronto has more talent top to bottom than any of those teams, so why couldn't Bosh lead the Raptors to the playoffs?
I definitely think he deserves a big contract (something around $13 million per season sounds about right), but there's a tendency for teams to give their best player a max deal no matter how they stack up against the other superstars in the league. Michael Redd, Andrei Kirilenko, Shawn Marion, Allen Iverson, Jermaine O'Neal, Tracy McGrady, Stephon Marbury, Steve Francis, Ray Allen, Rashard Lewis, Mike Bibby and Vince Carter all made more than $15 million last season and while some are better than others, I don't think any of those players are worth that kind of money.