Will the Padres trade Adrian Gonzalez?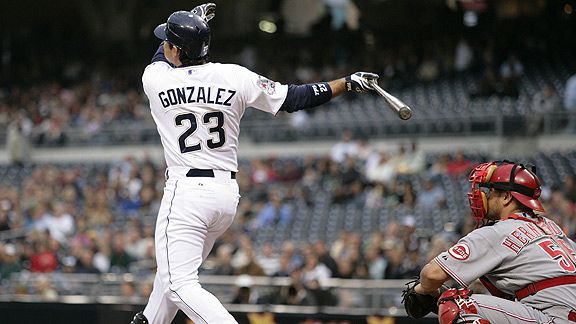 In a recent video blog for ESPN.com, Buster Olney broached the topic of whether or not the Padres will trade young star Adrian Gonzalez and said that if they do, it'll be during the winter.
Olney says that the Padres have already alienated their fans by letting closer Trevor Hoffman leave via free agency and by trying to deal ace Jake Peavy, so they don't want to disrupt their loyal followers even more by dangling Gonzo on the trade market. Olney also noted that the Red Sox would be interested in Gonzo if he were available now, although he also stated that the Pads would get more in exchange for the slugger if they wanted until the offseason.
Even the thought of trading away a young bat like Gonzalez would be enough to send most Padre fans to their nearest psych ward. He's their only slugger in a weak offense and he's locked up until 2012. Why would San Diego deal a young productive player like Gonzo when they're trying to rebuild in the midst of an ownership change?
The answer is that if the Padres were able to unload Peavy and Gonzo, they wouldn't only save money, but they could also completely retool their farm system. Both players are in their prime, they've been incredibly productive so far this season and their trade stock has never been hire. Could you imagine the haul San Diego could bring in if they dealt both of those players? Along with picking No. 3 in this year's MLB draft, the Pads could build a core in their farm system and compete for years to come, rather than struggle in a weak NL West for the next couple of years with Peavy and Gonzo on the roster.
It'll be interesting to see what the Padres do around the trade deadline when contending clubs are desperate. Maybe Onley is right and they won't make a move until this offseason, but if the right trade comes along in the next couple months, it might be hard for SD to sit on their hands.