Braves acquire Nate McLouth from Pirates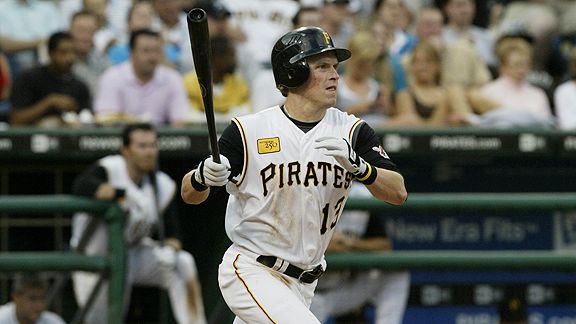 In an effort to try and inject life into their stagnant offense, the Braves acquired outfielder Nate McLouth from the Pirates in exchange for prospects Charlie Morton, Jeff Locke and Gorkys Hernandez.
The Braves acquired a speedy slugger who can bat anywhere in the top half of their order, and who they'll have under contract for three or four more seasons.

McLouth joins a Braves outfield that was tied for last in the majors with 10 homers through Tuesday, and finished last with 27 homers in 2008. He almost single-handedly matched the Braves' outfield total with his career-high 26 homers in 2008, when he hit .276.

He stole 23 bases in 26 attempts in 2008, and he has not been caught stealing this season.
The Braves paid a hefty price: Morton was 7-2 with a 2.51 ERA in 10 starts at Gwinnett, and Hernandez, 21, hit .316 with 11 doubles, two triples, 19 RBIs and 10 stolen bases in 52 games at Class AA Mississippi.

Locke, 21, was 1-4 with a 5.52 ERA in 10 starts for Class A Myrtle Beach.
It may seem like the Braves gave up a lot in this deal, but Hernandez might be the only real loss seeing as how Locke is struggling and Morton might not have cracked the starting rotation anytime soon.
McLouth is a solid hitter, can play center, is locked up cheap throughout the next couple of years and seeing as how he's only owed $2 million this season, the Braves still have room to make another move or two.
As of now, it would appear that the Braves got the better end of this deal, which is no surprise considering their trade partner was the Pirates.