A chat with WEC fighter Mike Brown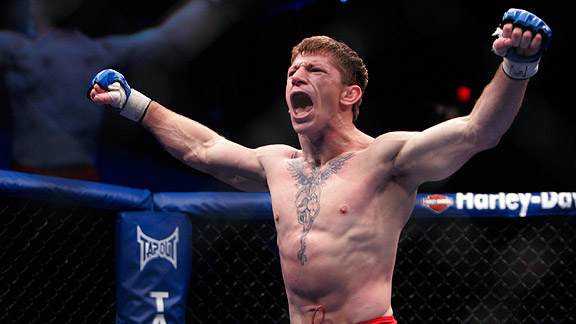 You may not have known who Mike Thomas Brown was a year ago, but chances are you do now if you're a fan of Mixed Martial Arts. Brown is the WEC (World Extreme Cage fighting) featherweight champion. His career record is 21-4-0 and Brown has won his last nine fights, with his last loss coming on Dec. 2, 2005 by submission. On Nov. 5, 2008, Brown defeated Urijah Faber by TKO in 2:23 to win the WEC title. Faber was then considered one of the best pound-for-pound fighters in the world as he had won 13-straight fights lasting over three years before losing to Brown. Since beating Faber, Brown defended his belt successfully against Leonard Garcia on March 1 of this year with a submission in under two minutes after staggering Garcia on his feet with a solid combination of punches. Fighting out of American Top Team in Florida, Brown appeared in the UFC in 2004 in a submission loss to Genki Sudo, but now the former Norwich University wrestler prepares for his rematch with Faber, which takes place Sunday, June 7 at the Arco Arena in Sacramento, Calif. The fight can be seen on VERSUS at 9:00 p.m. ET.
Brown took a few minutes away from his training for the fight to speak with us on the rematch and his MMA career.
The Scores Report: How has your life changed since your first win over Faber?
Mike Thomas Brown: Since the Faber win, I probably do a few more interviews and get recognized a little more. You know, each time you win, your pay goes up a little bit, so I am making a little bit more money, but nothing major has changed.
TSR: Going into your first fight with Faber he was considered at the time to be one of the top pound-for-pound fighters in the world. What was your strategy heading into that fight?
MTB: Just not to do anything stupid, keep a good defense, you know, real simple stuff. I wanted to capitalize when he made a mistake, because a lot of times he puts himself in bad situations. Like a lot of times when he gets taken down, he will give up his back, things like that. I was just hoping I could take advantage of those situations. I ended up catching him when he turned his back to me a little bit by throwing that elbow, so I think the game plan worked.
TSR: Do you think Faber overlooked you at all or wasn't taking you as seriously as he should have?
MTB: No, I don't think so. You know, I think he knew who I was and what I was capable of. I just don't think that was the case, but you really never know.
TSR: What was the feeling going through your mind when you first defeated Faber to win the WEC championship?
MTB: At first you are just happy that you won, like any fight, but then after you win you start to think about what else comes with it. Sometimes you win a small fight and you are just so happy to get the win, but in that fight I started to think and I realized that I also get the win bonus money. Then I realized that they were going to give me a title belt, because you aren't thinking about that stuff before the fight, you are just thinking about the fight. But, after the fight, you slowly start to think about all these things you get on top of the win and you are like 'oh yeah, I also get this.' I think when I won that fight, each thing just kept hitting me after the fight, and I kind of realized that this was for a pretty big title, and I was just very happy.
TSR: Do you feel your win over Leonard Garcia helped solidify you as a champion and let everyone know that your win over Faber wasn't a fluke?
MTB: Yeah, I think that win helped a lot. At that time I didn't have a lot of TV fights either, so that was another big TV fight where I had a dominating performance so I think the fans saw those fights back-to-back and said, you know, this guy can fight.
TSR: Is it fair in your mind that some people still consider you the underdog in this rematch with Faber?
MTB: To me it doesn't matter because it is just someone's opinion. I have been the underdog in a lot of these fights. I am on a nine-fight win streak and I have probably been the underdog in about half of them.
TSR: You hear a lot from fighters about how much of a different fighter they are than the last fight. How much of a different fighter are you now than the last time you fight Faber, and how much do you have to prepare for him to be a different fighter?
MTB: I think I am a lot better now than I was seven or eight months ago. I am training hard and I am training with great fighters all of the time. We have had some changes in our camp with new guys coming in and you always learn a new set of techniques when that happens, and I am improving all of the time. I am doing the same thing I always do, I keep it simple and I kind of try to impose my game on everyone that I fight. Unless they have a huge hole in their game, like they have really bad stand-up or are really bad on the ground, then I will try to attack that area, but he is a well-rounded fighter, so I have to just go and do my thing.
TSR: Do you consider this the most important fight in your career, or is that a moniker that goes with any fight?
MTB: I think the next fight is always the most important. You hate to lose any fight. Any loss goes on your permanent record, so I get nervous and scared to lose any fight. None of the fights behind me really matter anymore. It is all about this one.
TSR: Would beating Faber a second time be more enjoyable than the first?
MTB: Of course. A lot rides on it. Your future rides on it. The amount of money you are going to make in the future, your record rides on it. There are a whole lot of things that go along with winning not just ….. I mean your health matters. I mean if you get beat up, your health suffers. There is a lot on the line. Health, money, ego, all that stuff.
TSR: Versus and the WEC is really promoting this fight, does that put more pressure on you, or is having the chance to be the face for the company something that you really embrace?
MTB: It is really good because you are finally getting credit for all of the hard work you put in. At the end of the day, a fight is a fight. I get nervous and want to win any fight, it doesn't matter if it is a small show in Florida where the guy's record is 2-2 and I am getting paid $1,000, it is the same nerves for me. It doesn't matter how big the fight is.
TSR: Can you tell the readers a little bit about how you first got started in Mixed Martial Arts.
MTB: You know I was a big fan and I watched the UFC and thought it was the greatest thing ever in the world and I was amazed by it. I started training just because I loved it. I wrestled in high school and in college and from there I started training jiu jitsu just for fun and my college roommate saw that they were looking for fighters on the mma.tv website. I forget what it was called back then, it was like submissionfighting.com or something, but they were looking for fighters and he was like 'hey let's do this'. He kind of talked me into it so I did one just to kind of say I did it and because I was a fan, and then one lead to another and another and another.
TSR: Who were some of your idols in the sport growing up or who were some of the fighters you wanted to model your fighting style after?
MTB: With each generation it has changed. When you watched the first UFC, you wanted to be like Royce Gracie, of course, because you saw the smaller guy submitting everybody. You were like, wow, I would love to be able to learn this. Then it changed over time, but fighters that I really look up to are guys like Genki Sudo, who could really entertain people, Thiago Alves, JZ Cavalcante, and I am a fight fan so there are a lot of guys that I look up to.
TSR: Is there a fight in your career that you think really helped you turn the corner and become a top-level fighter?
MTB: I think I learned a lot after the Joe Lauzon fight. I had lost two in a row and at that point I had thought that maybe this sport wasn't for me and maybe I should think about doing something else. Maybe I had reached my peak by making it to the UFC. I wasn't making any money and I was just doing it because I loved it. I think that kind of changed me. It made me realize that I had to work on my submission defense a lot more because I had been submitted two fights in a row, so I knew there was a problem. Just working on that changed me quite a bit I would say. Since then I think I am like 13-1 or something like that.
TSR: You fought in the UFC in 2004, how has the sport changed in the five years since that time?
MTB: It is turning into the biggest sport in the world, I think. If it is not there now, I think it will be soon. I always knew this was going to happen and knew that it was going to be really, really, really big, but I thought it would take a lot longer. I thought that when I was an old man that everyone was going to know what the UFC is. That is what I thought, but it only took a few years. Things moved a lot faster than I thought and the establishment of the weight classes was big because there was nothing out there for the little guys and I didn't think we could make a living at this. I thought maybe if you were heavyweight you could, if you were the best in the world. But, now you can be 135 pounds and make a living in this sport.
TSR: What are some of the goals you still hope to achieve in your career?
MTB: You know I just take it one fight at a time. I am going to dig my feet in and try to hold on to the belt as long as I can. I just want to make people believe that I am a good fighter and hold on to the belt as long as possible, and try to make some money while I am doing it. That is about it, nothing major. I want to keep having fights that people want to see and care about. I just want to have big fights from now on.
TSR: Is there anything you would like to say to your fans?
MTB: Just thanks to all of them. Without Champion Nutrition, Bushmaster, and TapOut, I wouldn't be able to do what I am doing for sure. They are keeping me afloat. Also, check out mikethomasbrown.com, that is my website.
TSR: Alright Mike, thanks for your time and best of luck to you in your fight with Faber.
MTB: Thanks a lot. Take care.
Interview conducted by TSR MMA contributor Drew Ellis.