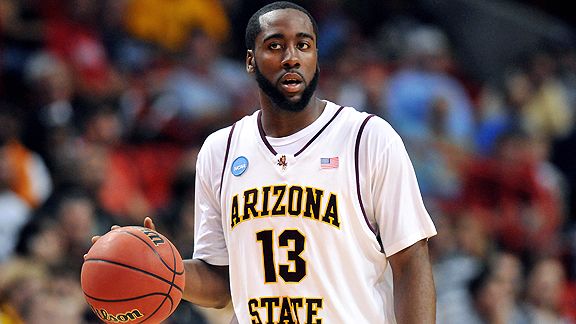 The NBA draft combine started yesterday and here are some of the rumors and observations coming out of Chicago (from Draft Express and ESPN's Chad Ford).
James Harden might go #3 to Oklahoma City or #5 to Washington. Sacramento #4 is a no-go because the Kings already have a star shooting guard in Kevin Martin.
James Harden for example has elected not to conduct any interviews with teams drafting outside the top five, canceling a scheduled interview at the Westin Hotel with the Cleveland Cavaliers for example. He also reportedly will not be conducting any competitive workouts with anyone anywhere in the draft process. A source close to him tells us he feels very good about the possibility of being selected by Oklahoma City or Washington, and for right now is not planning on visiting the Minnesota Timberwolves.

Most teams we've spoken to in Chicago are indicating that they believe Oklahoma City is indeed leaning towards picking Harden. They also believe the Thunder are not enamored with Rubio at all, as they are committed to developing Russell Westbrook at his natural position—point guard.
This seems high for Harden, who had a great season but completely disappeared in the NCAA tournament. He is a very skilled scorer and he should thrive if open shots are created for him by a playmaking teammate. I don't know how good he is at getting his own shot.

According to his agent, Aaron Goodwin, DeMar DeRozan won't be working out against anyone and won't last until the #9 pick.
"DeRozan is not working out with anyone. He isn't going up against Gerald Henderson or anyone else at this point. He may not even go to Toronto. He won't fall to 9."
Ford said that DeRozan looked great at the combine.
DeRozan showed off his terrific athleticism. But more impressive was the solid shooting display he put on. While he still isn't a sharpshooter, he showed range out to the NBA 3-point line. For a guy who shot 18 percent from the college arc as a freshman, that has to come as a big relief.
"As far as upside goes, he's second only to Blake Griffin in this draft," one NBA GM noted. "He has all the physical tools to be a superstar. The question is — is he Vince Carter or Gerald Green?"

NBA scouts aren't high on Ty Lawson right now.
"Injury prone" one assistant GM calls him. "A backup point guard…he's 100% behind Jonny Flynn" another NBA representative says. "He's a product of North Carolina's system" a third told us. Lawson seems to be outside of the lottery at the moment, but still has a good chance to be picked by two teams looking for point guards in the late teens, Philadelphia (#17) and Atlanta (#19).
I like Flynn as well, but Lawson is a proven winner who was the ACC Player of the Year. Philly or Atlanta would be lucky to get him.
ESPN's Chad Form confirms that Lawson is slipping.
Lawson continues to take a little bit of a beating. His small stature and so-so performance in the combine didn't help dispel a growing chorus of scouts who seem to feel that his game won't translate to the pros.

UCLA's Jrue Holliday looked great.
He was the biggest point guard of the top group and seemed to tower over several of the smaller guys on the floor.

During one 3-on-2 full-court drill, Holiday looked like a power forward running on the wing. And while his size was impressive, so was his game. He was hitting his jump shot, finishing with both hands and showing versatility and an excellent handle.

"I was skeptical when I read the report out of IMG about Holiday," one NBA executive said. "Now I get it. That's the kid we fell in love with in high school. He was really impressive."

Stephen Curry is getting a lot of love.
Larry Brown is reportedly extremely high on Stephen Curry, and may be willing to trade up in order to get him. Apparently he views him as being able to play either guard position, even alongside Charlotte's current group of point guards, Raymond Felton and D.J. Augustin.

Curry is getting love from teams as high up as Washington and also has a chance to be drafted 6th (Minnesota) or 7th (Golden State). While the Knicks clearly like him, he isn't the only player they will consider—the other top candidates on their board currently appear to be Tyreke Evans and Jrue Holiday.
Ford says that Curry put on a shooting exhibition.
Curry put on a shooting show — no surprise there — but many GMs commented that he really looked like he belonged when he participated in a number of ballhandling and full-court drills. If Curry can prove to teams that he can play point guard, he'll go somewhere between No. 5 and 13. If he can't, he could slip out of the lottery. The results of the first day of camp had to be encouraging.
Ford also said that Jonny Flynn, Eric Maynor and Patty Mills impressed.

The combine measurements were released. DeJuan Blair is only 6′ 6.5″ in shoes, but he has a 7′ 2″ wingspan, giving him an overall reach of 8′ 10.5″, which is good enough to tie for 10th-highest at the combine, and 1.5″ higher than Blake Griffin's. Ford said that Blair was the best big man on the floor. (Blake Griffin, Hasheem Thabeet and Jordan Hill sat out.)
Blair wowed a lot of people with his new, more toned and chiseled physique. There seems to be a controversy about how much weight Blair has actually lost, but there there's no question that his body looks much better.
I like Blair as long as he keeps his body in shape. He could be a star power forward or the next Robert "Tractor" Traylor.

Gonzaga's Austin Daye looked solid.
Gonzaga's Austin Daye helped himself the most. He was flawless in the drills, launching and hitting shots from everywhere on the floor and showing a very high basketball IQ.

B.J. Mullins really helped himself.
Many NBA scouts had Mullens as a top-five pick at the start of the season, but downgraded his stock after he failed to get significant minutes as a freshman.

Thursday was a bit of a coming-out party for Mullens. He passed the smell test for big men with flying colors.