Maurice Clarett wants to play football again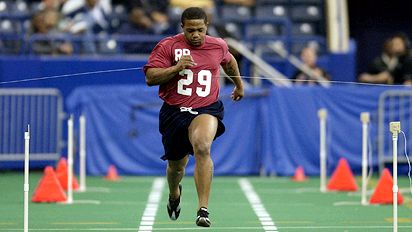 Former Ohio State star running back Maurice Clarett wrote in his blog that he's in good shape and wants to play football again when he gets out of prison.
Clarett, 25, earned a jail sentence of at least 3-1/2 years in September 2006 after being arrested on concealed weapons charges in Ohio. He could be released next year.

He has blogged periodically from prison, and his May 25 entry says he's trying to stay in shape that could give him another chance in the NFL.

(Notably, Clarett's blog post came one day before Judge Sonia Sotomayor, who authored the ruling that dismissed his bid to enter the NFL draft as an underclassman, was nominated to the Supreme Court.)

"I can't hold these feelings in anymore," Clarett said. "I want to play football again. I have a deep desire to play. I love the game. I have so much penitentiary aggression pinned up inside of me. I want to hit someone. I want to run the ball. I want to tackle someone. I want to play. I am going to play somewhere."

Clarett was a third-round draft choice by Denver in 2005. But he never played a game. He would be a longshot to earn a roster spot in the NFL if he tried in 2010 at age 26. But he could be a candidate for the UFL if the start-up league is around then.
No wonder newspaper columnists don't take bloggers serious – this dude's blogging from freaking prison.
I think the only way the UFL succeeds even for a day is if it goes out and recruits players like Clarett and Michael Vick knowing that there is no such thing as bad publicity. As much as I would deny wanting to watch, I know I would tune in just to see how Clarett and Vick look in playing action again. In know way do I think the UFL will ever be profitable (especially if it foolishly runs against the NFL's regular season), but I'd at least be a little interested in tuning in to watch Clarett and Vick play some second rate football.
Follow the Scores Report editors on Twitter @TheScoresReport. You can also follow TSR editor Gerardo Orlando @clevelandteams and @bullzeyedotcom, and you can follow TSR editor Anthony Stalter @AnthonyStalter.
Picture of the Day
Enjoy a daily photo from Bullz-Eye.com of one of their beautiful models.
Improve your game today!
You've got to brush up on your game to get the girl! Find your hookups with this online dating guide.
Sexy Girls and Cars
Check out this slideshow of hot babes and cool cars.