Calvin Borel to switch back to Mine That Bird for Belmont?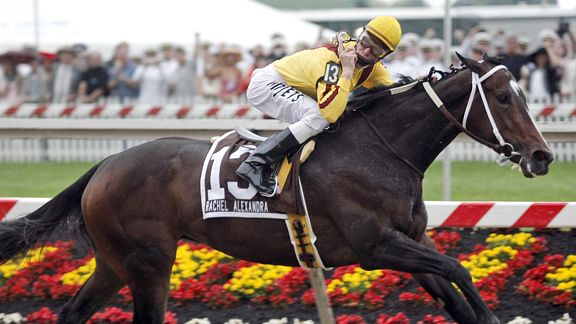 The 2009 Belmont Stakes, which is the third and final leg of horse racing's Triple Crown, is still a couple weeks away (June 6 to be exact), but the big news surrounding the race so far is that Preakness winner Rachael Alexandra might not run.
Apparently trainer Steve Smussen and majority owner Jess Jackson are leaning against running filly Rachael Alexandra in the Belmont since she has already had a long spring campaign and she has nothing left to prove after beating the boys at the Preakness.
So what will Preakness-winning jockey Calvin Borel do for a ride then? Well, look no further than the horse he rode to victory at the Kentucky derby – Mine that Bird.
Getting back to Borel, with Rachael Alexandra an uncertainty for the Belmont Stakes, he can continue his quest for a personel Triple Crown aboard Mine That Bird, because there is certainty that trainer "Chip" Worrel Jr. and owner Mark Allen would love to reunite Borel with Mine That Bird. One more intriguing scenario exists for Borel, in that if somehow Mine That Bird and Rachael Alexandra don't run in the Belmont Stakes, then what if Calvin picks up a new mount for the Belmont Stakes and wins aboard him. That would be an incredible Triple Crown, to win all three races on three different horses! One for the ages, and most likely never be done again.
This might not be a big deal to some, but a jockey winning the Triple Crown on three different horses would be quite the feat. Personally, I hope Rachael Alexandra runs at the Belmont, because she could be one of the best fillies to ever race and it would be a shame if she missed two of three Triple Crown legs.