Report: BCS directors might have lied about bowl game charity donations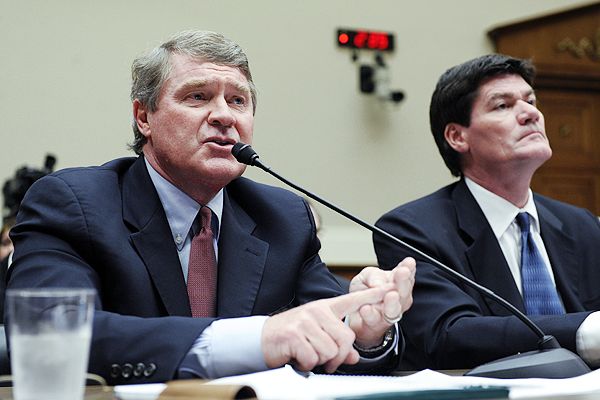 Remember Republican Rep. Joe Barton of Texas? He's the congressman who wants to see college football adopt a playoff system and who compared the BCS to communism.
Barton is making headlines again as he plans to investigate testimony from Alamo Bowl executive director Derrick Fox made at this month's BCS subcommittee hearing in which Fox claimed that millions of dollars are donated to local charities thanks to the revenue generated by bowl games.
Fox, while representing all 34 bowl games during his appearance on Capitol Hill on May 1, claimed in his argument against a playoff that "almost all the postseason bowl games are put on by charitable groups" and "local charities receive tens of millions of dollars every year."

In fact, 10 bowl games are privately owned and one is run by a branch of a local government. The remaining 23 games enjoy tax-exempt status from the Internal Revenue Service, but combined to give just $3.2 million to local charities on $186.3 million in revenue according to their most recent federal tax records and interviews with individual bowl executives.

"That doesn't seem like something that's really geared toward giving to charity, does it?" said Rep. Joe Barton (R-Texas) after being presented with Yahoo! Sports' findings.

"It's perjury if it's knowingly said," Barton said of the sworn testimony, which he called "misleading." "It's also contempt of Congress. You've got to give [him] some sort of due process, but ultimately the remedy is to hold [him] in contempt of Congress on the House floor or send it to the Justice Department for criminal prosecution of perjury under oath."

Barton, the ranking Republican on the subcommittee and a playoff proponent, did caution that in today's political climate there is no certainty that charges of perjury or contempt would be filed even if the investigation found wrongdoing.

Fox said in a written statement the "tens of millions of dollars" testimony was "a good faith estimate based on information initially supplied by the FBA [Football Bowl Association]."

Yet Bruce Binkowski of the FBA said the organization doesn't compile such figures and in literature doesn't assign a dollar amount to the bowls' charitable donations because "we just don't know."
As Barton stated, perjury charges may never come in light of Fox's statements, but it is interesting that the main argument made for keeping the current non-playoff system in place is an outright lie. If you read the entire article, it notes that Fox and ACC commissioner and BCS coordinator John Swofford stated several times during the subcommittee hearing that donations to local charities and economic impact on host cities are the two main reasons of why bowl games must be saved at all costs. Yet there doesn't appear to be any evidence that the local charities receive "tens of millions of dollars every year" from the BCS, so either Fox and Swofford fabricated those statements or they flat out lied in effort to keep the current college football format in place.
If the BCS did generate millions of dollars for charities every year, then a case could truly be made that college football is better off without a playoff system. (Although if bowl games generated money for charities, I don't see why a playoff system couldn't.) But again, there isn't any evidence that that is indeed the case and therefore Fox and Swofford have some explaining to do.
Hopefully this is just the start of the BCS' unraveling.